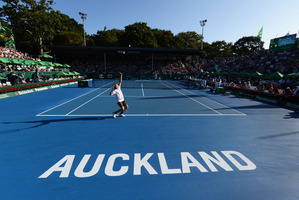 After two weeks of mostly wonderful weather in Auckland, let's hope we can put a lid on the idea of a roof for the ASB Tennis Arena.
There are many things that the sport in this country needs but creating an all-weather arena at Stanley St should be not be a priority. It was first mooted a few years ago when redevelopments started and gained some traction last year during the awful weather that disrupted the 2012 ASB Classic.
It is a fanciful idea. If 43 other tournaments this year prosper without cover on the ATP tour, then surely our fortnight of tennis can survive. Stanley St needs some work, especially in the spectator amenities at two of the three permanent grandstands and temporary barriers to stop the wind tunnel effect would be handy.
Aside from under-usage, the central issue for Auckland Tennis should be the state of the sport - which seems to have reached crisis point. Tennis administrators need an action plan or they can watch their game, still played by hundreds of thousands of Kiwis, become a recreation rather than a sport.
While Tennis New Zealand is in charge, Auckland Tennis can't abdicate responsibility. They have the largest catchment area for players and are the most cash-rich province, mostly thanks to the two summer tournaments.
So instead of trying to raise funds for a multi-million dollar roof project (at an estimated cost of $20 million, and rising), financial and other resources should be directed towards developing players. Putting aside Marina Erakovic, neither tournament has had a creditable local presence since the days of Brett Steven and Belinda Cordwell in the 1990s.
Trying to produce world-class tennis players from these isolated islands is an extremely big ask. But it shouldn't be seen as impossible and there are things we can do to give our youngsters a fighting chance.
Tennis Australia has recently commissioned the construction of eight clay courts at Melbourne Park while Brisbane has four and Sydney two. Around 80 of the top 100 in both the men's and women's games come from Europe or South America, where clay is the dominant surface. The Australian tennis moguls don't expect to see the results of this investment for 12-15 years but have conceded they need to start now.
While we can't hope to match the mega budgets of Tennis Australia, we can do things in our own way - like negotiate some share agreements with the Australians and construct our own clay courts for use by our top juniors.