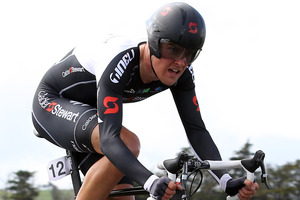 Michael Vink will on Sunday try to win the New Zealand road nationals in Christchurch for the second time but is already eyeing a bigger prize.
The 21-year-old allrounder - Vink is also an excellent time trialist - is preparing to add the track to his resume and is targeting a medal at the Rio Olympics in 2016.
Vink, a Cantabrian who will race familiar roads around the 180km suburban circuit in the Calder Stewart nationals, will also compete in the individual pursuit at the track nationals at the Invercargill Velodrome on January 31.
"The support is there from BikeNZ," Vink said. "They want Olympic medals and of course I want an Olympic medal so we've both got the same goal. We've both got the same ideas about how to get there, which is a road and track mixed programme.
"It's something different, which is exciting for me. The road can get a bit repetitive.
"It will be interesting to see how I go but from the small amount of track racing that I've had in the legs, it's been really fun."
The individual pursuit is no longer an Olympic event, but a meeting between the heads of world cycling in the middle of this year could change that, although it is unlikely to happen for Rio. However, the individual event is held at world championships, which carry plenty of kudos, and if Vink progresses he will be an excellent prospect for New Zealand's team pursuit.
BikeNZ high performance director Mark Elliott is excited about Vink's potential. "We've got a select group that we're looking to take to Europe this year to do intensive racing and technical track development in Belgium," he said.
"Michael has been doing his own thing over there for the last couple of years and has obviously seen the platform we provide and is keen to be a part of it. We know how talented the young man is so it will be great to see him in the fold. He's certainly got a great engine and we know how strong he is."
- APNZ