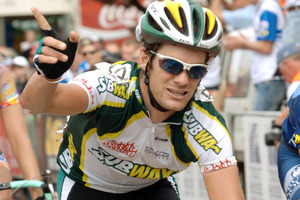 World Pro Tour cyclist Greg Henderson believes he faces a daunting task to realise his dream of a national road title.
The Melbourne and Girona-based rider is heading to Christchurch this weekend in his attempt to win the Calder Stewart national road championship for the first time.
The 35-year-old has a stack of honours to his credit including a world title on the track, a stage win on a Grand Tour, a Commonwealth Games gold medal and five Olympics Games.
However, the Lotto-Belisol professional is the only rider among an experienced Kiwi quartet who has not won the national title, which is a burning reason for his decision to race. The retiring Julian Dean from GreenEDGE won the New Zealand road championships in 2007 and 2008, Radioshack Nissan Trek pro Hayden Roulston triumphed in 2006 and 2011, while Garmin-Sharp Olympian Jack Bauer beat them both in 2010.
That leaves Henderson among the senior New Zealand pros yet to claim the title, something he would dearly like to achieve.
"Absolutely, there's no question of that. I am realistic as well. It's a hard race to win. I have only got one rider there - myself," Henderson said. "But I can't win it sitting here at home in Melbourne either. You've got to turn up on the start line to have a chance of winning it."
Henderson said the national championship is a tough race to win.
"The dynamics of the nationals is so different to any other race. By the last lap everyone is usually on their last legs. You are in ones and twos.
"If it was a Pro Tour race you can predict what will happen nine times out of 10. But it is a New Zealand bike race and you are racing against some of the good young talent, club riders and trade teams who have all peaked for it as well as some other pros racing as individuals too.
"It is a hard race to control and a hard race to dictate and a hard race to predict."
Henderson has a rich pedigree in the sport, starting on the track with a world title in the scratch race 10 years ago, a stage win in the Vuelta a Espana in 2009 along with six stage victories on the Pro Tour. Now specialising as a lead-out rider, Henderson set up German Greipel to 20 stage wins in 2012 with three coming in the Tour de France.
The father of two knows what wearing the national jersey would mean to him.
"It would be beautiful to be able to wear that black jersey in Europe. New Zealand is pretty well known now. All of the Kiwi bike riders who come over to Europe are well respected. It would definitely be nice and special to wear the jersey in Europe for sure.
"It's a very prominent jersey too so if you had the national jersey sitting in front of Greipel who is winning stages of the Tour de France I guess it is helping put New Zealand on the map."
- APNZ