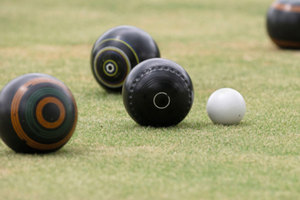 Sandra Keith will have a chance to pick up some more silverware at the national open bowls championship in New Plymouth after leading her Dunsandel club team into tomorrow's final of the women's fours.
Keith won the pairs title with Dunsandel teammate Serena Matthews earlier in the nationals and the two will combine with Pam Clarke and Karolyn Boon in the fours. They will take on locals Heather Johns, Val Keightley, Debbie Smith and Caroline Harris who will have the advantage of playing on their own greens at the Paritutu Bowling Club.
Johns skipped her side into the final after a nail-biting 17-16 win over another local side from Vogeltown - Shirley Marsters (skip), Helen Grey, Val Robertson and Val Webster. In a tight contest, the Marsters quartet increased the pressure by winning the final three but just fell short after being repeatedly blocked by Johns' side.
The other semifinal on the adjacent rink was a lot more comfortable, with Keith easing to a 21-7 victory over Liz Johnstone (skip), Joy Clouston, Lyn Weir and Faye Gecse (Composite).
Leading throughout the match, Keith clinched the final berth by taking the last four ends, including a five on the third-to-last end that put her team out of reach.
The semifinals of the men's fours are being played this afternoon.
Andrew Kelly's composite team are taking on Brian Baldwin' composite team while Rowan Brassey's composite team are taking on Richard Girvan's composite quartet in the other semifinal.
Both men's and women's fours finals will be played on the Paritutu greens tomorrow from 9am.
- APNZ