New trainer delighted with win after Grande Bellezza took the $75,000 feature at Ellerslie last week.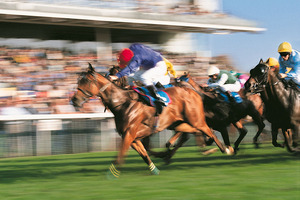 Any horse trainer gets excited about winning a race. Louise McGregor gets really excited.
But then it's all new to her, although it's getting more common.
McGregor scored the biggest win of her brief career when Grande Bellezza took the $75,000 Dunstan Feeds Championship Final at Ellerslie last Tuesday.
The whole experience is so new to the Te Aroha trainer that it was no less a thrill to take Saturday's $25,000 Lockwood Coastwood Homes Thames Gold Cup with Parnell Prince.
"I'm so delighted because we were going to run at Taupo, but with the $25,000 stake here we switched plans," said McGregor.
Parnell Prince was far too strong in the closing stages of Saturday's race and it was not a field that lacked fairly strong talent.
"We'll just assess him from this point," said McGregor. "We're gradually working him out, but the one thing that stands out is that he does not like being hit with the whip.
"Keeping his mind right looks to be the key and we are trying to keep him away from windsucking."
Parnell Prince is owned by Keith Parsons, who thrust his way into horse racing only a handful of years ago and now has shares in many horses.
The building trade operator is a keen participator and the Ellerslie and Thames victories will doubtless create more ownership opportunities. McGregor is a new player and her horses have done a magnificent job lately.
•Gaston proved he was a perennial underrated type when he scored in the main sprint.
The former Sydney sprinter was simply too good for the opposition in the main short distance.
Gaston has always been underrated and was too good in the run down the short Thames home straight.
•Clarry Conners admits he hasn't watched Clevadude's wins but is aware of his reputation as the one Assail has to beat in the A$2 million ($2.5 million) Magic Millions.
The Conners-trained Assail rounded out her preparations for this Saturday's Magic Millions Classic (1200m) at the Gold Coast with a pleasing exhibition gallop at Warwick Farm on Saturday.
After watching the hitout and getting the feedback of race jockey Craig Williams, Conners declared the filly right on target.
The unbeaten Assail, runaway winner of the Wyong Magic Millions last start, shares favouritism at $3 with the Rick Hore-Lacy-trained gelding Clevadude who is also unbeaten in his two starts in Victoria.
"I haven't even seen him race yet, to tell you the truth," Conners said.
- additional reporting: AAP