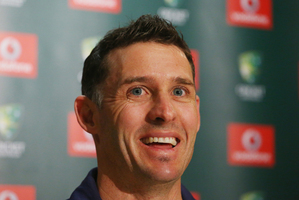 Retiring champion Mike Hussey yesterday steered Australia to a five-wicket victory and a 3-0 series whitewash of Sri Lanka with his final knock in test cricket.
Arriving at the crease with 37 runs required, ultimate professional Hussey carefully guided Australia to the target of 141 for the loss of five wickets with a chanceless 27 not out, just as he'd done in tests and one-dayers since debuting in the national team nine years ago.
Fittingly, Hussey was in the middle when Mitchell Johnson hit the winning run in the second over after tea - and was given a rousing send-off by the Sri Lankan team and an appreciative SCG crowd before hugging his Australian teammates, who formed a guard of honour.
The 37-year-old even pulled out a party trick, performing a perfect reverse sweep for four off Sri Lankan danger man Rangana Herath - perhaps the first of his test career.
It capped off a nervy chase for the Australians, who lost Phil Hughes (34), Michael Clarke (29), Ed Cowan (36) and first innings century-maker Matthew Wade (9), all in the middle session.
Hussey made it clear that being at the crease to seal the victory wasn't the be-all and end-all for him, and what he'll miss the most is the team spirit associated with winning a test match.
Hussey is the custodian of the team song and revealed he would pass the honour of leading the post-victory singing down to spinner Nathan Lyon.
"I haven't told the boys yet ... I'll let it out of the bag now, I guess. I'm handing the team song on to Nathan Lyon," he said.
Hussey said he was hoping he wouldn't even get to the crease on his final day of test cricket.
However, he was touched by the farewell he'd been given in Sydney.
"I didn't want to bat at all.
"I was hoping we were going to get the runs none down, actually," he said.
"But it was very nice to be out there at the end.
"That's what you play the game for, to be out there when the winning runs are hit.
"I was only thinking this morning, what a fantastic place to finish, this is probably one of my top-three favourite grounds in the world, so I'm extremely happy.
"I'll miss these guys, there's no question about that, but I'm sure there's lots of it I'll miss.
"This feeling, when you win a test match for Australia, is a great feeling. Singing that team song with the boys in the dressing room is what I'll miss most.
"I'd just like to be remembered as a good team-man really ... but it's for other people to decide."
Jackson Bird was named man of the match after taking seven wickets, while Clarke was crowned man of the series as the leading run-scorer with 316 at an average of 79.
- AAP