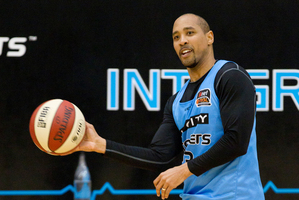 The mark of a championship team may be finding new ways to win but the Breakers' two-point victory on Saturday night came from a more familiar source.
While CJ Bruton made only two shots against Wollongong, they were the biggest baskets of the game as the Breakers (12-3) barely survived a 78-76 shoot-out to solidify their lead atop the Australian NBL standings.
Bruton's first three-pointer came late in the third quarter to give his side a five-point lead - the Breakers' biggest advantage since the first half.
Wollongong whittled away that lead and a three-pointer by Oscar Forman had given the Hawks a narrow edge, before Bruton's second three all but decided the game.
The 37-year-old has repeatedly proven his capacity for clutch shooting since his ANBL debut 18 years ago, most recently during the Breakers' double-overtime win in game one of last year's grand final series against Perth.
Considering his reputation - and that he spent two seasons with Wollongong - it was a minor miracle Bruton was left open to make the winning basket, but the veteran revealed his availability owed much to his guile.
"I don't think they intended to [leave me open], the way their defence was going and they way they'd been playing all game," Bruton said. "I took a different route and, when I took a different route, I knew no one was going to match up.
"I made a sharp cut and, when I squared up, I realised I was naked. It was a good look."
That kind of craft means it is no accident Bruton has been part of five championship teams.
Despite the Breakers' victory providing a valuable buffer over the dangerous Hawks - a team who have beaten Perth twice this season - Bruton refused to be drawn on its significance in securing a top-two finish.
"We don't want to go too far ahead," he said. "We just want to take care of business a game at a time. Because if you look too far down the line, it can bite you in the backside.
"Next game, we've just to make sure that we prepare ourselves the right way and come out with the energy we've been coming out with."
That game, against lowly Townsville on Friday, is the final leg of a four-game swing across the Tasman, a road trip the Breakers have made look like a New Year's holiday.
Emphasising the Breakers' depth and trust in their whole roster, American back-up Will Hudson has been the key contributor during the first three games, with the win over Wollongong providing his second double-double of the trip.
Discussing his own heroics, and strong performances from the likes of Hudson and Alex Pledger, Bruton sounded a warning to sides who may think the Breakers rely too much on presumptive MVP Cedric Jackson.
"We know we have to move the ball. We have a lot of guys that can contribute and we're doing that."
- APNZ