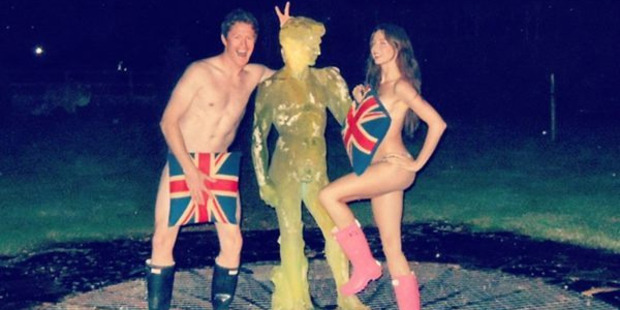 Who wants to be a millionaire footballer?
Rio Ferdinand was on the receiving end of the sledge of the year after a fan ripped into the Manchester United defender with a cracking serve on New Year's Eve. Ferdinand was forced to have an early night and tweeted for sympathy from his fans:
"While u guys around the world are out celebrating New Year, spare a thought for me please... I'm in the team hotel sleeping!!! #lovethegame."
A fan under the name Scouse Scouster replied: "Will you spare a thought for the rest of the country struggling to make a living while your on 80k a week ..."
The message had more than 5600 retweets.
Not so fast
Non-conference British football club Newport County were also blasted on Twitter for prematurely announcing a loan signing from one of their rivals.
The Newport County Twitter feed reported: "We can confirm that Jake Thomson has joined Lincoln City on a month's loan." Only for Lincoln City to reply: "Can you therefore get the paperwork signed and sent to us so the move can be completed???"
Hairy cause
An ice hockey fan is refusing to shave her legs until the current NHL lockout has ended. Pittsburgh Penguins fan Maggie Wagner is making the stance which began midway through September.
"Where I live hockey is just not a thing. People don't watch it, they don't even think about it. So one of my goals was to get the people around me, however they reacted to my leg hair, to ask me about hockey, and the lockout. None of them knew what a lockout was before this. Now they know. I decided I wanted people all around the world on Twitter to see my leg hair and realise that it is as ridiculous as this lockout," the 17-year-old told Yahoo Sports.
Fans to the rescue
Facebook fans helped reunite Germany international Marc-Andre ter Stegen with his missing dog after the Borussia Monchengladbach keeper put out an SOS.
The goalie's beloved puggle puppy Bali escaped over Christmas after being hit by a car. After hours of searching, the worried goalie asked his Facebook followers for help - publishing a photo and details of her last known location.
With the help from his 65,000-plus Facebook fans Bali was eventually found with no serious injuries.
Safe to pee in the water
Experts from charity organisation Sense About Science (SAS) have confirmed Olympic swimmer Ryan Lochte's notion that peeing in the pool "is not bad". Lochte admitted at the London Olympics that he relieved himself as soon as he entered the water and was quickly backed by teammate Michael Phelps. "Everybody pees in the pool. It's a normal thing to do for swimmers. Chlorine kills it so it's not bad," Michael Phelps told the Wall Street Journal. SAS, which every year challenges and examines scientific claims made by celebrities to prevent inaccurate information gaining public acceptance, upheld Phelps' claim, the International Business Times reports.
"An Olympic-size pool contains over two million litres of water and a single urination is somewhere in the region of 0.2l.
"To have any significant effect on the overall composition of the pool water you'd need a serious amount of peeing," concluded Jones.
Farewell, Greigy
The SCG yesterday bade fond farewell to a man they used to love to hate when he was England captain, Tony Greig. The Channel Nine commentary team each paid tribute to the big man and his sparring partner and great mate Bill Lawry even nominated his favourite Greig piece of commentary - one that accompanied a Shane Warne test hat-trick.
Strange he didn't pick this one: "Five for 304, slowly but surely the South Africans are clawing their way back." Camera pans to attractive spectator dressed as Wonder Woman. "Oh boy, doesn't she look gorgeous (pause) Come on then, say something. He [Lawry] won't say anything, it's got to be a pigeon before he comments." Lawry: "You dig a hole, mate, you fill it up."