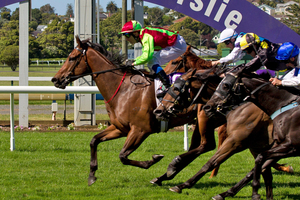 Some clearly defined guidelines need to be put in place in the New Zealand handicapping system.
Put plainly, shouldn't horse connections be entitled to know within one rating point - at the outside two points - of where their horse will be re-rated to going into a race?
At the moment, no one has any idea.
The re-rating could be five or 15, that's a lifetime of difference.
You cannot plan a horse's campaign, even its career, on that basis.
Last year, Marea Alta won Te Rapa's Taumarunui Gold Cup from down in the weights and copped five additional rating points.
This year, High Kin won that same race from a similar place in the weights and was in a similar position in her career and her connections were entitled to believe she would receive something of the same.
She received 15 points.
David Green believes the mare he trains has no future left in New Zealand and she had to come off the emergency list to make the field at Te Rapa. Mosse goes around in a lowly $15,000 race at Tauranga today in an attempt to make the field in the Telegraph at Trentham late this month, something he failed to do in yesterday's $200,000 Railway at Ellerslie.
Part owner and trainer John Bell pretty much declared yesterday that safely through today's race - and enough re-rating points to take Mosse from 23rd in order of entry to the 18-horse Telegraph field - that he will go forward with the horse.
"We'll play it day to day, but it would be nice to think he could run in the Telegraph and perhaps run in a nice race in Australia in the autumn." What race that might be has not been decided.
"Murray Baker [fellow trainer] has been good, he loaned me the Sydney programme booklet yesterday and we've been looking at it."
Mosse will put a few more people on the barbecue tables at Tauranga today. He should simply be too good and extend his record to six from six.