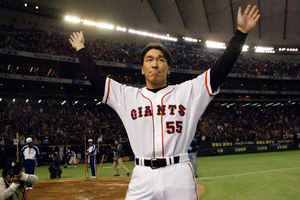 Matsui quits baseball
Hideki Matsui has retired from professional baseball, saying he is no longer able to perform at the level that earned him a World Series MVP with the New York Yankees and three Central League MVPs in Japan. Matsui announced his retirement yesterday at a news conference in New York that was conducted only in Japanese and broadcast live in his home country. The 38-year-old Matsui batted .282 with 175 homers and 760 RBIs for the Yankees, Los Angeles Angels, Oakland Athletics and Tampa Bay Rays, having moved from the Yomiuri Giants in Japan.
Nets fire coach
Avery Johnson has been fired as coach of basketball's Brooklyn Nets, who have lost 10 of 13 games to drop to .500. General manager Billy King announced the move yesterday without saying who will be interim coach. The Nets next play at home today against Charlotte.
Wood signs with Leicester
New Zealand soccer ace Chris Wood has moved from English Premier League side West Bromwich Albion to Championship team Leicester in a $2.95 million deal, according to reports in the UK. The Daily Mail said Wood has been in prolific form during a loan spell with Millwall, who were anxious to turn his temporary stay into a permanent transfer and competing with several other clubs, including Leicester and Huddersfield for his signature.
Bowls shock
The national bowls champs opened in sensational fashion with defending women's champion Sandra Keith knocked out after three defeats in New Plymouth. Keith dominated last year's nationals and then again at the World Bowls single of singles championships in Cyprus, when she won every game except for one against Malta and brought the title home for New Zealand for a third year. The Dunsandel bowler lost 11-21 to Leigh Griffin, 12-21 to Tania Wrigley and 16-21 to Reen Stratford.
Murray slumps out
Olympic Games and US Open champion Andy Murray lasted just 84 minutes in his first match of a new tennis campaign yesterday when he slumped to a 6-3 6-4 defeat to Serbia's Janko Tipsarevic in Abu Dhabi. Tipsarevic, the world No9, faced Spain's Nicolas Almagro, who replaced Rafael Nadal in the three-day exhibition tournament.