Railway Stakes pre-post favourite is in danger of being balloted out of the New Year's Day feature.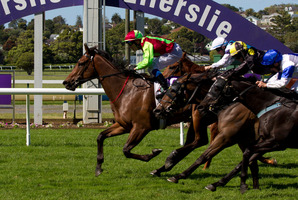 Cambridge trainer John Bell doesn't smoke, but he would be happy to chew a few fingernails over rising star Mosse during the weekend.
When the nominations came up yesterday lunchtime for Tuesday's $200,000 Sistema Railway Stakes Mosse is missing a start by two horses.
The safety limit for the Railway is 14 runners and Mosse was number 16 in the order of entry into the field.
Bell knew his unbeaten star might be vulnerable and now he is.
Acceptances for the Railway close at 10 o'clock this morning and if there are no horses withdrawn by then from yesterday's nomination list, Mosse will be second emergency.
He has until 7.30am on Tuesday to gain entry to the field via an attrition rate.
"Well, something in the field might get pricked by the blacksmith and be required to be scratched," he said trying to convince himself as much as anyone.
"You're not dead until you're dead."
Yesterday, the New Zealand TAB had Mosse a $3.80 favourite for the Railway in its non-refund futures betting market.
The TAB had not adjusted that market by late afternoon.
After acceptances close this morning the TAB market will switch to Final Field betting.
On the brighter side, Bell says Mosse, who stunned racegoers with his Ellerslie win last start, is doing just fine at home.
As a back-up, Bell has nominated Mosse for the open 1400m handicap at Tauranga on Wednesday, no doubt much to the disappointment of the connections of the other nominees.
The other Railway quotes behind Mosse are: $4.50 Burgundy, $8 Durham Town, $12 Antonio Lombardo, $14 Demophon, Fleur de Lune; $18 Fazzle, Sitara, $21 Civic Rocks, Double Barrel, Ginner Hart.
The TAB's market for Tuesday's City Of Auckland Cup is $5 Polyantha, $7 Annie Higgins, $8 Shootoff, $10 Chaparrone, Savvy Dancer, C'est Magnifique; $12 Arcenciel, Dolmabache; $16 Savanah Rush, $18 Inanoff, $21 Better Together, El Soldato; $26 Boninsky, Fiorano, Storming The Tower, Templeton.
This also adjusts with this morning's 10am acceptances.
Topline 3-year-old Sacred Falls has settled in well to his new home in Chris Waller's Sydney stable.
Senior trainer Tony Pike could not be contacted for comment - he and Bruce Sherwin, who manages owner Dato Yap Kim San's Raffles Farm at Cambridge, are in Singapore then Kuala Lumpur visiting Kim San over the next week.
It is understood shares have been sold in the valuable colt since he last raced, when he won the 2000 Guineas at Riccarton on November 10.
Those shares will be worth significantly more if Sacred Falls wins one or more of the 3-year-old classics during the Sydney autumn carnival.
The way he has won his races in New Zealand, Sacred Falls will be a match for the best Australian 3-year-olds.