Infield swimming and other off-track attractions add to great day of racing.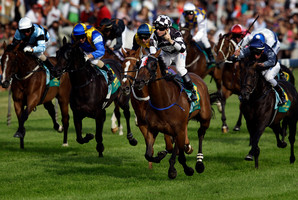 Some of the thousands of punters who head to the Boxing Day races at Ellerslie today might be surprised to find the infield transformed into a beach.
With pre-sales up on last year, Ellerslie Racecourse staff are preparing for a NZ Herald carnival crowd of up to 25,000, depending on the weather.
This year an artificial beach has been set up in the infield, where DJs will play music throughout the day and a beach cricket competition will take place between races.
"It's a laid-back summer approach," said Auckland Racing Club chief executive Cameron George.
"We shipped in more than 2000sq m of sand, and over 12,000 litres of water; there's a little bit of a pond there where people can swim as well.
"At the end of the day we've got to be innovative. That's what we've done - we've made a beach ... to bring the coast to Ellerslie."
Mr George said today would be a busy one for staff as they hosted one of the biggest events on New Zealand's racing calendar.
Around 800 staff will be working today. Punters are expected to quaff 15,000 glasses of bubbly, and devour 200kg of prawns, 200kg of Canadian lobster, 200 dozen oysters and 50 whole salmons.
Another off-course distraction will be the racing community's biggest fashion event of the year.
The Viva Fashions in the Field event has grown in popularity every year and sees a parade of sharp suits and highly detailed headwear competing for the highly prized supreme award.
But the real highlight - rain or shine - will be the racing, with the first race at 12.55pm and the last at 6.50pm.
Mr George said the centrepiece would be the $200,000 Zabeel Classic, with a very strong field.
"We've got Shez Sensational which is one of our best race horses in New Zealand. Racing-wise, the card is very, very good. And that's what people come to expect and want to see ."
NZ Herald carnival
Boxing Day
Raceday timing:
*9.30am Beach, Beats & BBQs (Infield) gates open
*10am All other gates open
*11.30am Hospitality options open
*12.55pm First race
*4.15pm Viva Fashions in the Field supreme winner announced
*6.12pm Feature race (Group 1 $200,000 Zabeel Classic)
*6.50pm Last race
*8.00pm bars on course shut
Beach, Beats & BBQs
An artificial beach has been set up in the infield with music from Ellerslie DJ Kieran Bell throughout the day on The Edge Soundstage supported by Edge DJs Clint Roberts and Kane Hawkin, free children's entertainment, a beach cricket tournament and food stalls. Punters can bring their own barbecue provided they bring their own fire extinguisher. The Rock is hosting a beach cricket competition with pre-registered teams playing between races. The New Zealand Herald Kidzone is a free children's entertainment area that features the Popsicle Roadshow, Giant Games and Ellerslie Swing-Ball Park.
Viva Fashions in the Field
Scores of entries are expected for the biggest fashion event on the racing calendar.
There are six categories:
*Canvas ladies racewear
*Men's racewear
*Hawaiian Airlines Ascot Lady (over 45 years)
*Principals Under 25
*More FM Fashionable Family
*Natalie Chan Millinery
The Supreme Award prize pack is a two-night stay at the Boatshed on Waiheke Island in a bungalow suite, including dinner and breakfast both days, two 90-minute body treatments, Togs (the Mini Moke) for a day to explore the island, a box of local wines, and on-island transfers.
Viva Powder Room
Open between 10am and 4pm. Free makeup touch-ups by Smashbox Cosmetics, hair by Pony Professionnel and nails by Orly.
Dec 29
A more low-key raceday with free general admission.
New Year's Day
The biggest day in the calendar, with seven feature races.
*Gates open 11am.
*Hospitality options open 11.30am.
*First race at 1pm, last race 7pm.
Lime's the winning colour
Lime green will be the colour to look for at the races today, says a designer responsible for many dresses and much of the headwear on display.
Milliner, designer and stylist Natalie Chan said the Boxing Day Races called for bright, fun colours - but it paid to handle them with care.
"Complement [lime green] by mixing it with other bright purples and pinks, or tone it down with a neutral such as cream."
Chan has been making quirky headpieces since graduating from Auckland University of Technology, launching her own label and opening a boutique in Parnell. She and her staff are flat out finishing bespoke outfits and headwear for the races, particularly for the Viva Fashions in the Field entrants.
Chan will this year dress world ranked tennis player Sorana Cirstea, in town for the ASB Classic. She said Kiwis were increasingly willing to dress up for the races, a trend spurred by high-profile people such as Kate Middleton. "Her style really fits in with the races. She likes to complete her look for certain events with a beautiful headpiece or hat and always looks immaculate."