Unassuming Kiwi lifesaver's hard work across Tasman has paid off with start in prestigious beach series.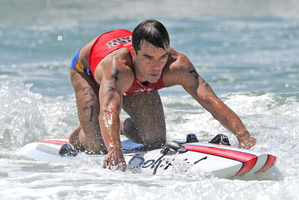 Beefy blokes with bronzed bods, blond-haired behemoths chasing barrels and babes.
Twenty years ago, you may have found your archetypal Aussie ironman competitor. Gold Coast-based New Zealander Chris Moors, however, is part of the new breed.
Last weekend, a squad of young Red Beach surf lifesavers were in Queensland for a training camp when they bumped into Moors, a proud Red Beach clubbie for the past 17 years. With little fanfare, Moors qualified in September for one of the toughest series in sport. He'll line up this weekend in the first round of the Kellogg's Nutri-Grain Ironman series on Perth's Scarborough Beach against 16 of the fittest blokes on the sand.
Moors knows what to expect - at 28, he's no fresh-faced rookie - but his Red Beach clubmates didn't.
"They were all expecting me to be massive and all bulked up," Moors laughed.
"I've been hitting the gym twice a week but that's just to maintain my body, not build it up. You are what you are. I'm lean and strong and as fit as I can be and you definitely don't want to be carrying too much bulk through a long season. It's more about consistency."
Consistency got him there and that's what he aims to deliver. Moors has never been the flashiest of surf athletes, ever since he wandered down to the Red Beach club at 11 as a decent swimmer from the local primary school. He moved on to Rangitoto College, then majored in marine design at Massey University.
He consistently made Auckland representative teams but it wasn't until he moved to the Kurrawa club on the Gold Coast midway through 2010 that he started getting noticed. Making waves, if you will.
Late in 2010, he became the first New Zealander to crack the top-10 of the epic Coolangatta Gold, finishing ninth in the gruelling 46km ironman race across a handful of Gold Coast beaches. Last year, he returned to win the New Zealand ironman title in Mount Maunganui, breaking Daniel Moodie's five-year streak of wins. This year, he's broken on to the biggest stage of all, the A$400,000 ($500,000) series, comprising six rounds in four Australian states.
"I'm well aware it's going to be another massive step up but I'm looking forward to it. It's a pretty cool feeling having all your accommodation and flights paid for, flying all over Australia racing the very best ironmen in the world. It's a bit of a dream and definitely a step up from what I have been doing. It's also daunting, to be completely honest, because you normally line up and look at your competitors thinking, 'Who's the easy-beat here?' There are definitely no easy-beats on this series."
The last Kiwi male to race on the series was his Kurrawa training partner Mike Janes in 2010, while Moodie made it the year before that. Glenn Anderson and Cory Hutchings have been the only others of note in the last decade. Kiwi females are even rarer, with Lucy Pengelly, Aimee Berridge and now Halligan leading the charge.
Moors has some fierce competition, with the likes of four-time world champion Shannon Eckstein, Olympic swimmer Ky Hurst and rising star Kendrick Louis competing. Eckstein, known as the Surgeon of the Surf for his uncanny ability to dissect a race and his opponents with apparent ease, believes the current crop of ironman are the best yet.
"If you compare them with 15-20 years ago when the guys had a massive profile across Australia, the guys in the series this year would wipe the floor with them," Eckstein said. "We train with Olympic kayakers and we swim with Olympic swimmers and the guys have just improved so much."
Moors hasn't forgotten his Red Beach roots - in fact, he'll be riding the red and white colours of the club on a specially-sprayed ski and board through the series. True to form, he'll also be riding a healthy dose of pragmatism.
"I wouldn't say I'm over-confident but I look around at the other blokes and they've all just got two arms and two legs. Someone's got to win and I reckon odds of 17:1 aren't too bad."