Trainer stunned when Macintosh returns a positive test after winning at Forbury Park.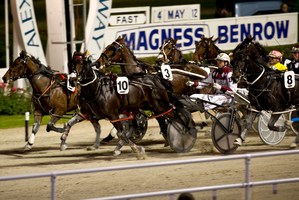 Cran Dalgety has gotten the call every leading horse trainer in New Zealand dreads.
And now his children are getting text messages no youngster should have to read about their Dad.
Yet Dalgety knows there is nothing he can do about it.
Dalgety has joined the long list of leading trainers to have a horse test positive for a restricted drug after Macintosh's win at Forbury Park on November 22.
While the substance has not been named Herald investigations suggest it is phenylbutazone, a commonly-used anti-inflammatory widely known in racing as bute.
While horse trainers denying drug administration is par for the course, Dalgety's case seems strange in the extreme.
If you were going to drug a horse in this country bute is about the worst thing you could use because it shows up so readily.
And to think the premiership-leading trainer would use it on a maiden in a race where his winning percentage was going to be $300 defies belief.
A senior HRNZ official said as much yesterday but with the matter now being investigated by the Racing Integrity Unit, the positive was released yesterday along with one for Otago trainers Graeme Anderson and Amber Hoffman.
And with that started the awkward questions.
"My kids are getting texts from other 13-year-olds asking if their dad is a drug cheat," said Dalgety.
"And what can I say? When a positive is announced it is almost a case of guilty until proven innocent.
"I think racing people understand these days that this is just part of the game when you travel horses with a big stable because it happens so often.
"But it is hard to explain that to non-racing people so it still carries a stigma."
Dalgety flatly denies giving Macintosh anything illegal, especially resembling bute.
"Only an idiot would do that because if you used bute the test would light up like a Christmas tree.
"I am very confident that will come out in the investigation, but until then what do I tell people?"
Dalgety says he dropped Macintosh off to another trainer to be transported from his Canterbury base to Dunedin on the morning of the race and stable rep Dexter Dunn only saw him again at the track before the race.
"And this happens all the time. I had horses racing at four different tracks last weekend and I can't be everywhere with every horse.
"I honestly have no idea how bute got into this horse's system - if it did - and it is scary to think about it and what it could all mean."
Dalgety knows. His brother-in-law Tim Butt just returned from a six-month disqualification to a positive for a horse he hadn't seen for two weeks.
Not so long ago the country's leading trainer getting a positive drug test would have stunned the industry, now it hardly rates a mention.
After all, of the top 10 trainers on the national premiership, seven have had a positive drug test at some stage, several which rightfully went virtually unpunished after investigations.
In an age when horses are travelling all over the country, some in the care of barely-licensed attendants and being treated by a myriad of vets, the stigma associated with positive drugs tests is fading inside the industry.
There are still the very rare genuine positives and straight-out cheats but most industry insiders can pick the dramatic changes in form and racing styles that accompany those.
Just like they can pick when drug administration sounds too silly to be true. Or at least intentional.
So what will probably happen to Dalgety?
Recent such cases would suggest Macintosh will get disqualified, Dalgety will get a fine and his kids will eventually stop getting texts about their Dad and drugs.
And he may never know what really happened to Macintosh on November 22.