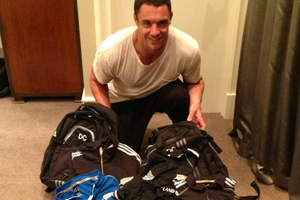 They rushed from all corners of Auckland in the pouring rain for the promise of a meeting with one of New Zealand's favourite sons, Dan Carter.
The All Blacks star tweeted pictures of locations around Auckland to his 123,000 Twitter followers of where he would be with All Blacks goodies to give out.
"I really like the idea of playing Santa,'' he tweeted. Carter gave away some of his own All Blacks kit from the team's recent tour to the UK and came up with the plan himself.
Luciana Palmer, 12, made it to the tree Carter was standing under at Mission Bay in seven minutes flat and was rewarded with an autographed bag full of All Blacks gear.
She said it was "really cool'' to meet Carter.
Ben Dominikovich and his mates rushed from Glen Innes to be there.
"We're willing to do anything for DC, eh''.
They were a couple of minutes too late to get any freebies but Carter was happy to have a chat and have his photo taken with them.
Carter said he got the idea from Hollywood actor and wrestler the Rock, who he follows on Twitter.
"It's been a bit of fun. I got a lot of my All Blacks kit sent over from the UK and I didn't really know what to do with it. All my friends and family have got most of it so I just thought it would be a good chance to give something back to the Twitter fans.''
Carter said he planned to spend Christmas with his friends and family, and would head down to the South Island for a couple of weeks.
- APNZ