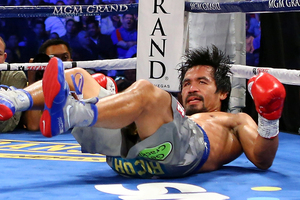 The stunning, spectacular and the sentimental, nzherald.co.nz lists the top ten sporting matches of 2012.
Number 5: Pacquiao knocked out cold
Sunday December 9th, 2012
The sight of the world's best fighter lying unresponsive, face down on the canvas is one of the most shockingly memorable moments of 2012.
Going into the fourth instalment of the fierce, controversial and utterly compelling Manny Pacquiao-Juan Manuel Marquez rivalry, fans knew they could once again expect something special.
What they got was something totally unforgettable.
Pacquaio -arguably the best pound for pound fighter of our time - walked straight into a heavy right hand from Marquez in the last second of the sixth round, and couldn't get back up.
It was boxing at its brutal best, a toe-to-toe slugfest that was destined from the opening bell to be decided by fists instead of judges.
Both fighters had been down, and both fighters were hurting when Marquez threw his right hand off the ropes in the sixth round that could be felt all the way through the pay per view Sky box office channel in Auckland.
Pacquiao, who hadn't been stopped in a fight since 1999 in Thailand when he was a 112-pounder, took several minutes to come around on the canvas before being led to his ring stool.
Having gone the distance in each of their previous three encounters, producing two controversial points victories for Pacquiao and a drawn bout, both men had promised to seek a decisive finish. They were as good as their word.
It will go down among the great fights of their era. But it was barely over when the cry arose for the two willing warriors to do it again.
After this performance I don't think there would be anyone complaining.
What they said:
Juan Manuel Marquez
"I knew I could be knocked out at any time when he was coming at me in those last three rounds, but I threw the perfect punch."
Manny Pacquaio:
"I was able to come back from the first knockdown but the second one was a really good shot.
"If you give us a chance, we'll fight again. I was just starting to feel confident and then I got careless.''
"The low morale, the sadness, I accept that. This is my job.... But the reaction of the Filipinos, the many who cried, especially my family, it really hurts me,"
Dionisia Pacquaio (Manny's mum)
"I have long asked you son, it is time to retire because you started boxing at such a young age. I was shocked yesterday. The way he suddenly fell."
Former middleweight and light heavyweight champion Bernard Hopkins
"That's the type of punch that takes more than one fight out of you. It takes a couple of fights out of you. It's one of those types of knockouts that you can recover from in life, but I don't think you can recover fully in the sport. That was a devastating knockout that has a long-term effect.
"I would advise him to grab his wife and kids and take a long vacation. Take a long year off. Regroup physically, mentally, spiritually and then you make the decision there. Truthfully, it was such a devastating knockout that I don't think he will ever be the Pacquiao that he was."
Top matches of 2012
No. 6 - Breakers triumph in overtime
No.7 - Epic Aussie Open final
No. 8 - Blues suffer last minute heartbreak
No.9 - Arsenal make astonishing comeback
No.10 - Black Sticks go down fighting
Over the next week we will count down the best matches of 2012. Which ones stood out? Have your say below.