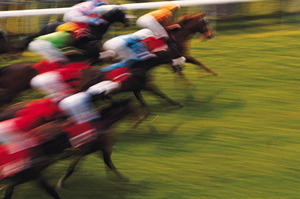 Brisbane jockey Ric McMahon will miss the Magic Millions carnival through injury but is determined to be back to ride exciting sprinter Better Than Ready in his autumn campaign.
The winner of four of his six races, Better Than Ready gave a sight of what was to come when he set a Randwick 1200m record of 1:08.19 in the Brian Crowley Stakes in October.
Trainer Kelly Schweida elected to give the colt a break, rather than press on with his spring campaign with the Sydney autumn in mind.
The 3-year-old's regular partner McMahon suffered a dislocated AC joint and rib cartilage damage when he was involved in a fall at the Sunshine Coast on December 9.
His mount Olliedale was unable to avoid another fallen runner, Any Poet, and had to be put down after being injured.
Last Wednesday, McMahon saw a specialist who told him he would be unable to ride for several weeks.
"The best option is to rest it until it heals in two to three weeks then I can do some physio and start riding trackwork in the new year," he said.
"I'll definitely be back for Better Than Ready when he resumes at the end of January."
McMahon is just one of several injured Queensland jockeys, with Dan Griffin unlikely to ride again this season as he recovers from injuries sustained in a three-horse fall at the Gold Coast on November 24.
Fellow jockeys Dean Tanti and Luke Rolls, who were involved in that fall, are also sidelined.
"Dan's cruciate ligament disappeared in his left knee and he has a grade two tear of the medial ligament in the same leg," manager Glenn Perry said.
"He will have an operation where they take one of his hamstrings out and use that to replace the knee ligaments. Apparently there are five hamstrings in the leg but only four are needed for leg function."
Griffin has won the past six Gold Coast jockey's premierships, eclipsing the previous record of five set by the late Ken Russell in the 1980s.
Tanti has a broken left ankle and elbow as well as a broken right wrist and will be out for three months.
Rolls suffered a fractured wrist but will seek a medical clearance on December 23.
-AAP