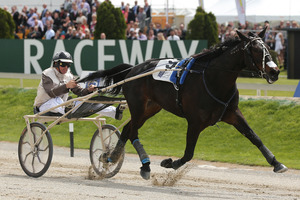 A former battling South Island trainer turned Aussie could be the big winner from an impending decision to keep I Can Doosit from handicap racing.
Canterbury-raised but now Victorian-based Merv Williamson trains I Didn't Do It, who downed Kiwi trotter Vulcan in the A$50,000 Dullard Cup at Melton on Saturday.
It was I Didn't Do It's second major win in a week and confirms him as clearly the best trotter in Australia, especially with Let Me Thru still two months away from a return.
Unfortunately, that still puts I Didn't Do It a few lengths behind New Zealand's champion square-gaiter I Can Doosit, who has won his past 18 races.
I Can Doosit is heading to Australia next month so he stands like a giant roadblock between I Didn't Do It and future group one success.
But that roadblock may not be quite as high as Williamson and his connections think.
Because I Can Doosit may be set to miss the Australasian Trotters Champs in February, a series that would usually be on his radar.
He is definitely heading to Victoria at that time but the ATC is a handicap series and with I Can Doosit having won every major trot in Australasia he could cop a mark that is almost impossible to overcome.
Trainer Mark Purdon doesn't need to rush into that decision but told the Herald if I Can Doosit looks likely to get too tough a handicap he will instead aim him at free-for-all trots in Victoria at the same time.
"He still has some big races coming up at Menangle and the new Great Southern Stars in March so I don't want to ask him to start off big handicaps," said Purdon.
"I will make the call closer to time but at this stage if we are going to miss any one of the big races it will be that one."
I Can Doosit races at Cambridge next Monday and then in the National Trot at Alexandra Park on December 31 as he chases Courage Under Fire's record of 24 consecutive wins by a New Zealand harness horse.
I Can Doosit missing the Champs would be a huge help to I Didn't Do It as he looks as good as the rest of the Kiwi challengers, with the possible exception of Stig.
A one-time speed freak, I Didn't Do It was still good enough to dead heat with I Can Doosit in an Interdominion heat at Ballarat last season.
He is even better now, having learned to control his whirling legs and he survived a stern mid-race challenge and then a passing-lane surge from Vulcan on Saturday night.
Vulcan still doesn't look back to his best after becoming sick two months ago but once he is he looms as a serious player any time I Can Doosit isn't around.
I Didn't Do It's victory was part of a stunning night for female drivers at Melton, with his pilot Jodi Quinlan also winning the Casey Classic on Decorated Jasper and Kate Gath partnering Caribbean Blaster to win the Victoria Cup.
With Victoria also home to the world's most successful female driver ever in Kerryn Manning, the state can boast being the strongest female racing precinct in the world.