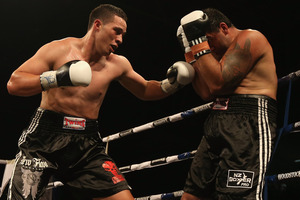 Joseph Parker's fledgling career took another step forward as the former amateur star dispatched Richard Tutaki with a third round stoppage at Trusts stadium last night.
The fight had been billed as good versus bad, with the wholesome Mormon Parker up against a journeyman fighter who is no stranger to the courts.
Tutaki may be a hard case - and he certainly proved to be a tough cookie - however all of the malicious intent in the fight came from Parker.
The 20-year-old dominated the first round through his blazing hand speed, then dropped Tutaki late in the second with a crunching body shot. From there it was just a matter of time, the end coming 1min 1sec into the third round via a chopping right hand that sent Tutaki crashing into the ropes.
Tutaki protested the stoppage but he had taken more than enough punishment.
The win moved Parker to 3-0, all via knock out. He doesn't yet possess one punch power, however he is already shaping as one of the quickest, most skilful fighters in the division.
His development should continue apace next year, with promotors Duco planning up to eight fights.
The next may well come on the Anthony Mundine v Daniel Geale undercard in Sydney in January. That blockbuster card will also feature street fighting legend Kimbo Slice.
Parker's handlers will also closely monitor Sonny Bill Williams' fight against Francois Botha in early February, with a view to calling Williams out for a defence of his New Zealand Professional Boxing Association title late next year.