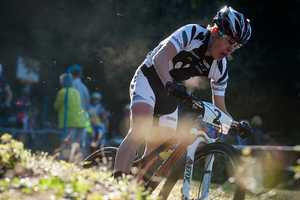 North Canterbury 18-year-old Anton Cooper capped an incredible year today by signing a two-year deal with international mountain bike team Cannondale Factory Racing (CFR).
The junior world champion will be based in Germany for five months during the New Zealand winter, racing UCI cross country World Cups across Europe and in North America.
"The team at Cannondale are such high class, with a couple of top Olympic riders on their roster and Keegan Swenson also, who I get along with quite well, so it seemed the right fit for me,'' he said.
"Also it'll be good for me to be riding more of the European season rather than in the US because, for me to keep improving, I need to be in Europe.''
Cooper is stepping up to the under-23 race category next year after dominating the international under-19 circuit in 2012.
"If you perform well in the under-23 races in Europe, you can get invited to compete in some of the elite World Cups, so I'll be trying to do that, especially in 2014,'' he said.
This announcement follows a spectacular year for Cooper after becoming the first New Zealander to win a UCI cross country mountain bike world championship in September, and this week being named as 2012 BikeNZ People's Choice Award winner and Male Mountain Biker of the Year.
Cooper was forced to explore alternative options after his previous team, Trek World Racing, decided to forgo their cross country commitments to focus solely on gravity (downhill) racing.
- APNZ