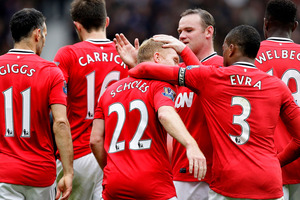 Manchester United may soon be lining up against members of the Wellington Phoenix, with the Premier League giants set to play a pre-season match in Sydney next July.
Football Federation Australia today announced the world's most popular football club are heading down under to take on the A-League All Stars at ANZ Stadium on July 20.
The match will be United's only appearance in Australia as part of their pre-season preparations for the 2013-14 English Premier League season, and they are set to bring a full squad for their first visit since 1999.
The team to face the Red Devils will be represent the best of the A-League and be selected by fans, meaning some of the world's best players, including Wayne Rooney and Robin van Persie, could soon face the likes of Paul Ifill and Jeremy Brockie.
"Having Manchester United as the opponent for our first ever A-League All Star game will put the A-League on the world stage,'' said FFA chief executive David Gallop.
"I'm absolutely delighted that Australian fans will get to see the Red Devils in action against the best A-League players. It's a massive opportunity for our players and one the fans won't want to miss.''
Tickets for the match go on sale to the general public on Wednesday morning.
- APNZ