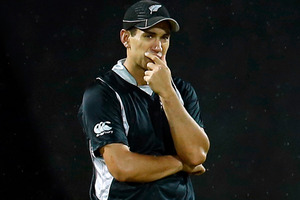 Ross Taylor has responded to his axing as skipper of the Black Caps and confirmed coach Mike Hesson told him his days were number before the test series in Sri Lanka.
After New Zealand Cricket today announced Brendon McCullum would captain New Zealand in all three forms and Taylor would be taking a break from cricket, Taylor told his side of the story in a statement through a PR company.
He confirmed his decision to decline the offer from NZC to continue captaining the test team and elaborated on his plans to take a "much-needed break''.
Despite NZC chief executive David White adamant in his assertion Taylor would return to the national set-up for England's tour of New Zealand later in the summer, Taylor said simply he would return when the "time is right''.
"I was told of the decision by NZ Cricket to change the captaincy on Tuesday of this week,'' Taylor said. "It was sad and disappointing from a personal perspective but it did not come as a great surprise.
"Mike Hesson, [manager] Mike Sandle and [assistant coach] Bob Carter met with me just prior to the first test in Sri Lanka and raised concerns about my captaincy. The following day Mike Hesson said he did not want me to captain the team after the tour.
"Obviously the news and the timing was distressing but I was very focused on leading the team and putting everything I had into what was happening on the field, not off the field.''
Taylor achieved that was spectacular effect, scoring a century in a man-of-the-match performance in the second test as New Zealand secured a rare win and levelled the series.
White said earlier today Taylor had been offered the opportunity to remain as test captain - and he denied reports this was merely an olive branch - but Taylor said that situation would have been difficult.
"I have decided that it is best for everyone if I decline the test captaincy offer which could be confusing in terms of leadership for the team.''
New Zealand will now face world No 1 South Africa without their best batsman, a prospect Taylor said was down to his current mindset.
"It has been a very challenging and pressured time and I don't believe I can give 100 per cent to the game at this time,'' he said. "Cricket is my life and my passion. I love the game and I love playing for my country. But taking a break is the right thing for me right now. My family and friends support my decisions that I have made after very serious thought and consideration.
"However, I want people to know that I am determined to contribute to the Black Caps team in the future and help whoever is in charge to win games of cricket for New Zealand. That is my passion and it will continue to be so. We all need to show leadership in our own way, at all times, regardless of who is in charge.
"Brendon McCullum has been named captain and I wish him every success.''
- APNZ