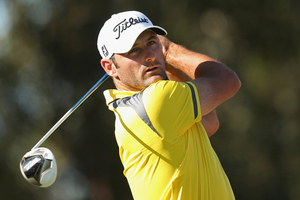 Kiwi golfer Michael Hendry's endured one of the more dramatic days of his golfing career, but has come out with a pleasing result in the opening round of the Australian Open in Sydney.
After fears he'd miss his tee time when his plane was delayed from Japan, Hendry made it to the course with just 20 minutes to spare with the help of a $15,000 charter flight.
He's gone round in an even par 72 to be in a tie for 28th, which he says was scarcely believable in the hours leading up to starting.
"We're on the plane within probably 10 minutes of landing in the Gold Coast and then literally took only 15 minutes to get from the wheels touching down on Sydney Airport's runway to the driving range, so it was unbelievable."
He says the toughest challenge was trying to calm down once he got to the course.
"I wasn't worried about the lack of preparation, it was more about sort of gaining some kind of equilibrium where I wasn't all flustered about whether I was going to get through all the rest of it, so you can imagine there was a lot of nervous energy amongst the guys."
"I played brilliantly today, I just had a bad couple of pieces of luck with a couple of wind gusts and things like that but we can't put a finger on any bad shots that I hit earlier today, it was just a matter of getting a few harsh bounces."
Australian John Senden leads at six under par.