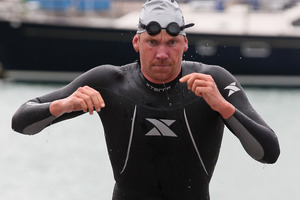 Australian swimmer Trent Grimsey has been stripped of his State Harbour Crossing title.
Grimsey, 24, won the 2.9km open water swim across the Waitemata Harbour on Sunday by more than a minute, but was accused of deliberately obstructing another competitor about a third of the way through the race.
State New Zealand Ocean Swim Series event director Scott Rice investigated and disqualified Grimsey.
"Trent is an outstanding swimmer in superb form, but we have to ensure that every competitor is given an equal opportunity to win, and in this case that didn't happen" Rice said
Grimsey's disqualification means another Australian swimmer, Ky Hurst, is the confirmed winner of the race, with Codie Grimsey, Trent's brother, moving up to second, and South African Troy Prinsloo was confirmed in third place.
The decision also had an impact on the overall series. Codie Grimsey is now the leader after two of the six races, with Aucklander Phillip Ryan moving up to second.
Before being disqualified, Trent Grimsey had the maximum 200 points after also winning the State Paihia Classic last month.
Confirmed men's 2012 State Harbour Crossing results:
1. Ky Hurst (AUS) 36:15
2. Codie Grimsey (AUS) 36:24 +0:09
3. Troy Prinsloo (RSA) 36:31 +0:16
4. Phillip Ryan (NZL) 38:54 +2:39
5. Casey Glover (NZL) 39:50 +3:35
State New Zealand Ocean Swim Series Standings (after Round 2):
1. Codie Grimsey 197.89
2. Phillip Ryan 193.26
3. Trent Grimsey 100.00
4. Ky Hurst 100.00
5. Troy Prinsloo 99.50
- APNZ