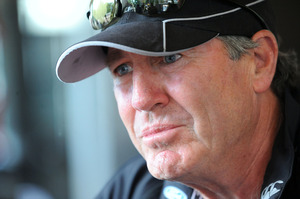 A story correctly predicting coach John Wright's decision to quit the Black Caps earned the Herald on Sunday's Andrew Alderson the award for the best sport story of 2012 at the annual TP McLean Sports Journalism Awards this week.
The Herald on Sunday's Gregor Paul took out the award for the best column/opinion writing of the year.
It was a big night for APN/Herald journalists, as New Zealand Herald writer Dana Johannsen took out the Banklink journalist of the year award after winning the best sports news and best sports feature awards.
APNZ's Kris Shannon won the DJ Cameron young writer award and Herald photographer Brett Phibbs won the best community, sport, recreation and adventure category.
The Awards, sponsored by Sport New Zealand (previously Sparc), attracted 200 past and present media and sporting celebrities. Among the guests were seven of the rowing eight that won gold in Munich in 1972, and 2012 London Olympic medallists Eric Murray, Hamish Bond, Joseph Sullivan, Blair Tuke and Peter Burling.
Former champion decathlete and Auckland Star journalist Roy Williams received the award for lifetime contribution to sport through journalism.
Alderson's story said: 'New Zealand cricket will lose the services of John Wright as national coach unless significant concessions are made over the next month.
'Wright is reluctant to continue in the job under his current terms. He is contracted until the West Indies tour finishes in August. The Herald on Sunday understands he will not demand a salary increase and is happy to concede more administrative responsibility to manager Mike Sandle but, in return, he wants absolute power over the coaching and selection of the team.
'...The "positive tension" oxymoron which NZC chief executive David White spoke about between Wright and his direct boss John Buchanan last week is believed to be at the core of the problem. Wright is a pragmatist, Buchanan is an analyst. Both have been successful coaches before joining NZC. However, Wright is believed to want no Buchanan influence around the selection table.'
A month later, Wright resigned.