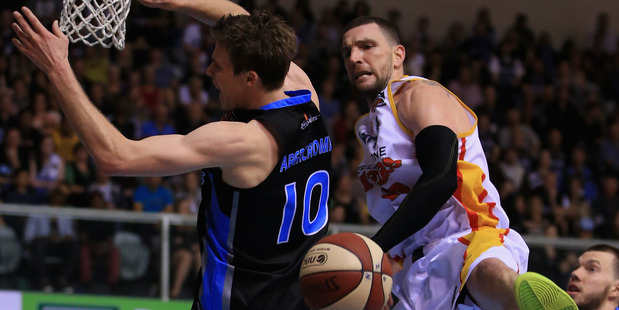 Breakers 99
Melbourne 64
Any NBA scouts tuning in to the Breakers game to keep track of Melbourne's Jonny Flynn would have been left with a different point guard firmly in their thoughts.
Cedric Jackson well and truly stole Flynn's limelight, recording the first triple-double in Breakers' history as he led his side to a 99-64 win at the NSEC tonight.
Not only did Jackson record his best points total in a Breakers singlet, he was just as powerful in limiting the impact of Flynn, the No 6 overall pick in the 2009 NBA draft.
The import showed his NBA calibre in recording 28 points, 10 rebounds, 10 assists and four steals. If Jackson can do that against a player of Flynn's quality, his American dream may soon be revived.
The result was almost an afterthought as Jackson chased history, but the Breakers had no problems in getting back to winning ways, atoning last week's loss to Perth to run their record to 8-2.
Jackson's impressive opening shift was a sign of things to come, scoring nine points as the Breakers stormed in front. The point guard also contributed four rebounds, three assists and a steal, while restricting Flynn's impact to just two points before he had a breather.
Jackson's efforts and solid play at both ends of the court from his teammates - 60 per cent shooting combined with some typically suffocating defence saw the Breakers take a 13-point lead into the first break.
The defending champions only extended their advantage as the second quarter unfolded, with Jackson again all action. He was doing it all _ stripping the ball from Flynn, consistently finding the open man and exciting the sold out crowd with a tomahawk dunk _ in a first half which illustrated just why he is the MVP favourite.
By the end of the second quarter, the Breakers had smashed the boards to build a 54-37 lead and looked to be on their way to a comfortable win.
With Jackson well in the hunt for an elusive triple-double, Flynn was showing brief glimpses of his class but not enough to keep the Tigers in touch. He was also showing signs of frustration with his teammates and, early in the third, he lost his cool with the officials and was whistled for a technical foul.
Flynn's teammates were providing ample reasons for his ire and, with a quarter to go, the Breakers' buffer was up to 25 points.
The only real intrigue lay with Jackson's fourth-quarter playing time. Just two rebounds and three assists away from recording the first triple-double in franchise history, it appeared the only thing that stood in Jackson's way was Andrej Lemanis' desire to rest him.
But the 26-year-old soon checked into the game and just as quickly added to his assist and rebound total. With five minutes left, he was one assist short, but he was doing himself no favours by continuing to drain buckets.
With the lead swelling to 35 points and four minutes remaining, Jackson was removed with a wry smile, only to talk his way back into the game moments later.
And he soon had the assist he required, putting an exclamation point on one of the best individual performances in Breakers' history.
Breakers 99 (Jackson 28, Abercrombie 11, Pledger 10)
Melbourne 64 (Flynn 15, Lewis 10, Scott 9)
Half Time: 54-37
- APNZ