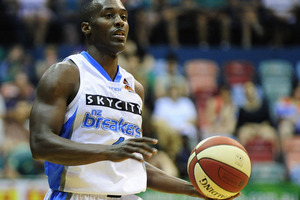 Cedric Jackson has conquered all-comers in this season's Australian NBL, but tomorrow night he faces his fiercest test - an old friend from college.
With the second-bottom Melbourne Tigers (2-6) travelling to the North Shore to face the second-top Breakers (7-2), most of the intrigue lies with the battle of the point guards.
The Breakers' Jackson is an early front-runner for MVP after leading his side to another excellent start in the defence of their crown, but he'll have his work cut out for him in the form of Tigers import Jonny Flynn.
The Americans both grew up in the Tri-State Area and played each other in college, before forging largely unsuccessful careers in the NBA. They are now set to meet a long way from home, and the prospect of renewing the rivalry whetted Jackson's appetite.
"I'm excited to play against another tough point guard, an American, a guy that grew up not too far from where I grew up," he said.
"He's a New York guy and I grew up in New Jersey. I played against him a few times at Cleveland State vs Syracuse, so I know him a little bit. He's a good guy.
"[We have] basically the same style of play - it'll be fun."
It usually is when Jackson has the ball in his hands, but he would be forgiven for feeling a little more tense tomorrow night. While his own NBA career has so far been curtailed to 12 games for three teams, Flynn is a different matter.
His play at Syracuse was such that he was selected sixth overall by the Minnesota Timberwolves in the 2009 draft, before injuries and indifferent form contributed to his shift down under after only three seasons.
Flynn has been in Australia for less than a month and, considering his pedigree, will undoubtedly have American scouts monitoring his progress with the Tigers.
Jackson, who barely missed the cut with the San Antonio Spurs in the off-season, will again attempt to revive his American dream in next year's NBA Summer League, but a typically dynamic performance against Flynn could help to propel him back to the big time.
"Most likely [scouts] will be watching," Jackson said. "But that's not really in my head, because if you think about all those things you might do things that are uncharacteristic. I'll just stay to the plan and have what we need to do to shut them down."
Jackson insisted, once he was on the court and the hype had diminished, he would be treating it like "just another game" and his focus would be on more than his former foe.
"I'm just worried about our team defence because we know what they're capable of. They have really good athletes - it's not just Jonny Flynn. We definitely can't overlook them, even though their record doesn't show their talent. They're a really good team."
The Breakers have had few problems disposing of teams like Melbourne this season, with their old adversaries Perth the only side to consign them to defeat. The Wildcats handed the Breakers their second loss last season, and Jackson maintained the Breakers would bounce back from the disappointment.
"We responded well through practice. We realised the things that are Breaker basketball we didn't really carry over. So we wanted to make a better effort of taking a hard stand this week. We've been going at each other pretty hard all week getting ready for this weekend."
- APNZ