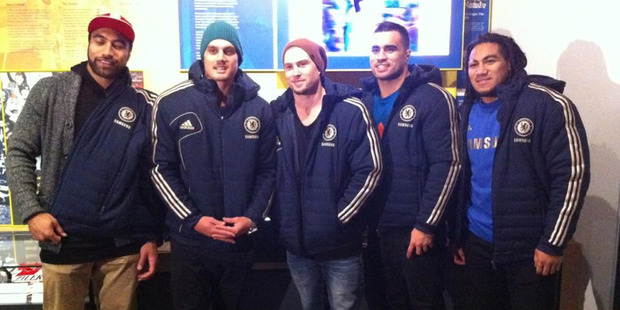 Victor Vito, Israel Dagg, Cory jane, Liam Messam and Ma'a Nonu attended the Chelsea-Fulham fixture today. Photo / ChelseaFC- Twitter
All Blacks Liam Messam, Cory Jane, Israel Dagg, Ma'a Nonu and Victor Vito were special guests at Stamford Bridge for the Chelsea v Fulham Premier League match today.
The Chelsea Football Club's official Twitter account posted a picture of the five - all of whom were wearing Chelsea jackets - at the match. The tweet was sent out to the team's 1.6m followers.
Jane tweeted a picture of himself in a Chelsea scarf with the message: "Now when people ask if I support a football team I can say Chelsea FC.''
However, the All Blacks, who play England at Twickenham on Sunday, didn't witness a goalfest between the London rivals. The final score was 0-0.
- APNZ