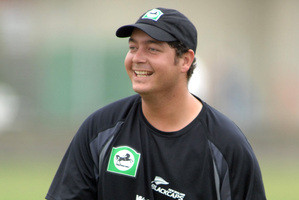 Monday night's humiliating capitulation to Sri Lanka - New Zealand's fifth test loss on the trot - has been widely panned as their worst performance in recent times.
They've been described as woeful and a national embarrassment, their performance in Galle an atrocity.
Against this bleak backdrop of failure, the stage is now set for Jesse Ryder to ride in like a white knight. A rotund, slovenly white knight wearing a sweaty bandanna ... but still.
Yep, Jesse Ryder. The man who got into a fight with a toilet window - and lost (how must Mark Watson feel?). The man whose late-night escapades are too numerous to mention. The man who has battled weight and fitness problems. And yes, the very same man who only a few weeks ago was again in trouble with the establishment, this time for running his mouth off at an umpire.
The point of this is not to drag up Ryder's past misdemeanours, but it is a shame his indiscretions are the first thing you associate with him.
But he's also the guy that has a test average of 40.93 - higher than any of the New Zealanders in Sri Lanka, with the exception of captain Ross Taylor (41.80) - and has 12 first-class centuries and 21 half centuries to his name.
Since his return from a self-enforced break to get his head straight, Ryder has been in commanding form for Wellington. He scored two centuries (117* and 174) in his first game back.
We are once again marvelling at his flamboyant batting style, rather than his propensity for stuffing his life up.
Domestic bowlers are an altogether different prospect to facing an international attack, but that's the point New Zealand has arrived at - they don't have a lot of options up their sleeve.
We're led to believe Ryder's return to the national fray will largely be governed by him - if only we were all so lucky. He indicated via Twitter that he hopes to be back playing for the Black Caps "when the time is rite".
The time is "rite" for New Zealand cricket.
Those who know him will say next month's tour to South Africa is too early; those who don't will say it's not soon enough. That's the dilemma. The home test series against England in February has been talked up as a more realistic target, but given the inevitable publicity that will surround his return, he might be better served making a quieter comeback in South Africa.
Perhaps it's time to abandon the mantra that no one player is bigger than the team and accept that in some cases special treatment is warranted. Give Ryder the support he needs, such as psychologist Karen Nimmo, to accompany him to South Africa.
Ryder has never been more wanted, he's never been more needed. That can only be good for his fragile psyche.
Shoulder charge 'shock'League stars from both sides of the Tasman are apparently shocked at the NRL's decision to ban the shoulder charge.
The real shock is why it took officialdom so long to make the change. Even with the unanimous support of all 16 team doctors and a recommendation from a specially formed committee that the controversial tackle should be outlawed, the NRL still dragged its feet in making a final ruling. New Sydney Roosters recruit Sonny Bill Williams was quick to express his outrage to the twitter-verse, claiming "this is league not tiddlywinks!!".
Cronulla and NSW captain Paul Gallen also voiced his displeasure over the decision, telling an Australian radio station "when you have a look at the highlight reels they're all big hits, the fans love shoulder charges".
Quite why Gallen believes pleasing the perverse needs of fans should take precedence over player safety defies logic, but it serves to illustrate why the NRL have been so hesitant to ban the tackle.
NZRL outlawed the shoulder charge in the mid-90s, but Australia had up until this point resisted following suit as they have their lucrative broadcast deals to consider. They may have changed the rules of the game, but in light of the reaction from top league stars, changing the culture will prove a bigger challenge.