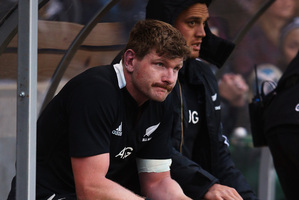 What is it with these Poms? Someone taps a Scot on the head with his boot and there is a collective scream of outrage rising to a pitch that only dogs can hear.
Adam Thomson's mistake in scraping his boot on the headgear of Scottish loose forward Alasdair Strokosch was just that - a mistake.
Anyone in rugby who lets his boot come into contact with a head - even if there was no injury and no malicious intent - can expect to have the book thrown at them. An encyclopaedia. Or War & Peace. Or Marcel Proust's aptly named In Search Of Lost Time - all 4211 pages of it.
So, yes, it was a bit of a surprise that Thomson ended up with only one week off, even if any sensible analysis of the incident showed the following:No one was hurt.There was no malicious intent.It was a dumb error - stupid, even - which did not achieve anything like the objective of freeing the ball.Thomson has never been a dirty player.The victim came out on the side of the offender, making the entirely valid point that no harm was done.
But, dear oh dear, the squawking coming out of England ... The English media and some fans have gone crackers over this. I won't bother repeating it all and, to be fair, it doesn't approach the hideous bleating that went on over Brian O'Driscoll's accident during the Lions tour here in 2005. We don't even have to examine the pompous emissions of the Times' Stephen Jones as his boss' application of a paywall on the website means hardly anyone reads the Kiwi-baiter any more.
The Daily Telegraph's rugby writer Mick Cleary - an eminently fair and reasonable man - was moved to say on radio that the penalty for Thomson should have been five weeks. His reason: because it was damaging to the image of the game.
Hilarious stuff. It evokes an image of toddlers all over the UK screaming and running behind their mums' skirts as the Yorkshire Ripp ... sorry, Thomson ... tapped Strokosch on the bonce with about as much force as a butterfly's kick. There was far worse on view last June, when Strokosch leaped high onto a joyous gathering of Scots players when they beat Australia. He connected in an accidental headbutt with team-mate Joe Ansbro in celebrations - and the blood flowed.
You could just imagine a nation of toddlers running to their mums saying: 'Mum, if you win at rugby, do you have to bang your heads together 'til you bleed?'
No, the "poor image" scenario doesn't hold water. What we are really seeing is something far more human nature in nature. The Brits have been consistently losing to the All Blacks for years. Decades. Bleeding ice ages. So many cast about for any reason, any justification. What we are hearing in response to Thomson getting the equivalent of being thrashed with a judicial shoelace is good old sour grapes.
The All Blacks have been faster, stronger, more committed, more skilled and more physical - with that physical approach generally applied in pursuit of the ball. Of course we have had our villains, same as anyone. Like England's Danny Grewcock. Only thing he grew, was tired of waiting on the sidelines after yet another ban.
New Zealand is not immune to this same syndrome, as some sour grapes outcries at past World Cups have shown. But basically, we Kiwis tend to regard rugby as still being "a man's game" - which doesn't excuse foul play but tends to put some rough stuff in context. After the 1999 World Cup, when French players got up to dirty tricks - like grabbing genitals - during their shock win over the All Blacks, a nation of Kiwis shrugged and said: 'Why didn't you do something about it?'
Rugby remains a man's game even after they outlawed rucking - and the Kiwi conspiracy theorists would have it that even that came from the evil north to dilute yet another All Black advantage.
Thomson and anyone using foul play will have to take their medicine. But, if the northern hemisphere doesn't agree with the penalties handed down, spare us the moralistic sermonising.
Tell us what you really think: you want to punish the All Blacks because they keep ripping through you like Vikings at a nunnery.