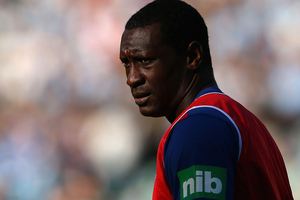 When you Google Emile Heskey, the most common suggested search for the Newcastle Jets striker is 'Emile Heskey jokes'.
Despite forging a largely succesful professional career, Heskey's low scoring strike-rate for England - seven goals in 62 internationals - earned the mirth of critics and pundits who took the chance to create their favourite quip about his lack of goals.
At club level his numbers have been similar - nine goals in 92 league games for Aston Villa in the English Premiership from 2009-2012, although his time at Wigan Athletic yielded a slighty better return.
Heskey's strengths lie in his ability to hold the ball and create space for others and he isn't a goal poacher in the traditional sense.
The 34-year-old also enjoyed spells at Birmingham City, Liverpool and Leicester City, but the only people laughing about Heskey now are the Jets who signed the veteran forward in September as their marquee player for this season.
He has scored five goals in six games since his arrival in the Hunter region and leads the A-League's golden boot standings alongside Central Coast's Daniel McBreen.
On Sunday the Wellington Phoenix will meet the third-placed Jets in Newcastle where central defenders Andrew Durante and Ben Sigmund will be charged with keeping the 1.88 metre frontman in check.
Heskey's recruitment - on a A$1 million deal - came at a time when the Phoenix trumpeted the acquisition of their own European striker, Stein Huysegems ,who played 15 internationals for Belgium between 2004 and 2009 but never managed a goal.
The latter is on a wage understood to be about one-fifth of what Heskey banks, but he has also produced the goods this season.
Huysegems has scored three times in six starts for the Phoenix and has been one of the side's hardest workers during their three-match losing streak.
Heskey and Huysegems aren't very similar in their style of play but will likely have a mutual respect for each other given they have each been professionals for more than 14 years.
"He's been pretty good. He already had a good career in England," Huysegems said of Heskey.
"He's a strong boy. He can hold the ball very good so it's easy for a team if you can have somebody up front who can hold the ball. Other guys can support him and he's scored five goals so he's a good signing for the A-League."
Huysegems appears to be one of the better value-for-money buys in the competition this year but didn't want to talk up his efforts so far.
"I scored three goals, so that's good, but like I've said already a couple of times it was better if I score less goals and we had some more points," Huysegems said.
"So I do my best to try and score as many goals as possible for the team. But it's not important who scores but the most important thing is that we keep on winning some games and hopefully we can do it on Sunday."
Given the Phoenix are in ninth place on the ladder after six rounds, they would love to see Huysegems find the back of the net again this weekend as they search for a way to reinvigorate their season.
- APNZ