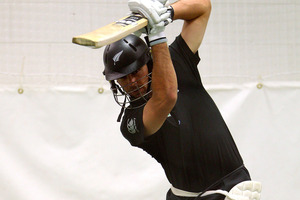 Just under 12 months ago, Dean Brownlie was busy going about making an unbeaten 77 in a test match against Australia in Brisbane and seemingly locking himself in for a lengthy stay in New Zealand's middle order.
His ability to play pace - particularly the short ball - was a rare sight for a batsman in a black helmet and it looked as though the Perth-born right-hander had made the right call to move to Canterbury from Western Australia in 2009 in search of a chance to play international cricket.
But Brownlie's bubble burst on the tour to the US and West Indies over the winter when he made only 79 runs in nine innings and was dismissed by spin bowlers five times.
The fallout meant he wasn't picked in the New Zealand squad for the Twenty20 World Cup in Sri Lanka, and he was also left out for the current tour there.
As a consolation prize he was given the chance to play for New Zealand A against India A in September in a series that included four-day games and 50-over fixtures.
Following India A's tour to New Zealand, when Brownlie made 106 in the final four-day encounter, the 28-year-old was sent to India for a batting camp on playing slow bowling in spinning conditions.
He made 113 for Canterbury in their season-opening Plunket Shield encounter against Otago last month and said he didn't feel like he was the forgotten man on the national scene.
"I wouldn't say I'm out of the picture," Brownlie said. "They gave me a great opportunity to go to India just before the season for two weeks and I got back a couple of days before the first four-dayer and I really learned a lot.
"Basically they sent me there with the hope that in future tours to India that I'll be part of that. So I certainly don't think I'm out of the loop. I just feel like they gave me a great opportunity to score some runs for Canterbury and, if I do, I'm sure they'll pick me."
As for what the New Zealand selectors had told him, the message was simple.
"They just said go back and get some runs, which is obviously the key, and if I'm not scoring then I'm sure someone else will and they deserve the spot. I've just got to score as many runs as I can and help Canterbury get as many wins as I can."
Brownlie managed scores of only two and seven for Canterbury against Otago this week but, given the merry-go-round selection policy that embodies the New Zealand cricket team, it's likely Brownlie will get another run in the national side in the future.
The upcoming tour to South Africa is an intriguing prospect given the hard and fast pitches there and a Proteas pace attack led by Dale Steyn and Morne Morkel. But Brownlie acknowledged it wouldn't be an easy road back.
"It's as hard as when you first make it, I guess. If I score runs I'm sure there will be opportunities. If I'm scoring runs and the New Zealand team's going well, then I'll just have to keep scoring runs until it's not and basically that's all I can do."
- APNZ