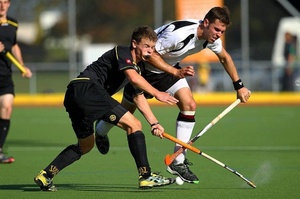 The New Zealand junior hockey side were beaten for the second time at the Sultan of Johor Cup in Malaysia when they went down to India 3-1 last night.
The Junior Black Sticks made an encouraging start to the tournament, drawing with Pakistan 3-3 and beating defending champions Malaysia 5-2 but were brought back to Earth with a 5-1 humbling by Germany and their latest defeat leaves them fifth of the six teams at the tournament.
Their final game will be on Sunday morning against Australia, who are chasing a spot in the final against India.
"We struggled against a fast and skilful Indian side in the first half," coach Grant Edwards. "Ball possession was better in the second half but turnovers were still too common. We just didn't hold possession for long enough periods to apply sustained pressure - and so regular turnovers allowed India quick counter-attacks."
India led 3-0 at halftime and, although Bendict van Woerkom helped reduce the deficit in the 46th minute, the Kiwis couldn't work their way back into the match. They had recovered from a 3-0 deficit to Pakistan earlier in the tournament.
India 3 New Zealand 1 (Benedict van Woerkom). HT: 3-0.
- APNZ