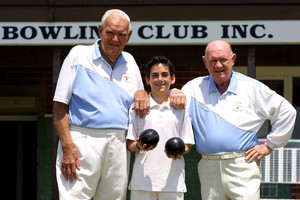 The Takapuna Bowling Club, which marks its centenary next month, had an early celebration yesterday when three stalwart members, Murray Mathieson, John Valentine and John Sakey, made today's triples final of the New Zealand Open at Henderson.
The Mathieson-skipped Takapuna triple beat a solid Orewa combination skipped by Frank Arnerich and then the composite of mainly Wellington bowlers skipped by former Black Jack, Jamie Hill.
Though the winning margin was a comfortable seven shots, there was still plenty of tension for the Takapuna men to endure before clinching a win, which owed much to the immaculate drawing of Valentine at two. Six behind playing the 15th and last end, Hill, with his lethal driving, almost gained the miracle he needed by killing the end four times.
Today's final will be effectively an all North Harbour contest, as Takapuna's opposition will comprise Browns Bay club members, Bruce Shand and Bruce McClintock. Their skip, though, will be Tauranga's Phil Harris, who used to play with Shand in the Kapiti centre.
The Harris side made the final with a comfortable semifinal win over Graham Wintle's Mangawhai lineup, which in the quarter-finals had added to the tournament's many upsets.
Mangawhai beat what probably on paper was the strongest of the sides left in the last eight, that of accomplished Wellington bowler Rob Ashton, 2010 open singles champion Raika Gregory and St Heliers' Barclay Lee, a past runner-up in the open singles.
Ashton, however, mastered the difficult conditions by securing a place in tomorrow's singles final, easily beating one of his arch-rivals on the PBA professional circuit, Waikato's Phillip Bennett, one of the finalists in the pairs.
Ashton will meet a well-performed Aucklander, Graham Growcott, who was also a decisive semifinal winner, over Onehunga's Kevin Dixon.
In tomorrow's women's triples final Anne Bateman, Ann Muir and Lauren Mills, from Whangarei's Kensington club, will defend the title they won last year against Bay of Plenty's Raewyn Willis and Patsy Jorgensen, the winners of the triples in 2008, and their new lead, Robyn Davis.
It will be the second final appearance for Bateman and Muir, as they are also in today's pairs final, though on this occasion in opposition.