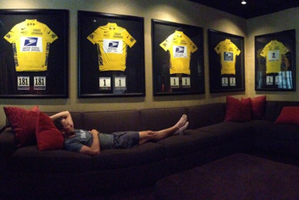 Disgraced cyclist Lance Armstrong posted a picture of himself on Twitter showing him and his yellow jerseys from seven Tour de France wins. Disgraced cyclist Lance Armstrong has posed with his framed seven Tour de France winners' yellow jerseys, tweeting a picture of him in his Texas home.
"Back in Austin and just layin' around," said Armstrong to accompany the picture of him lying on a sofa below the jerseys a month after the United States doping authorities stripped him of his seven titles and wiped his career record.
Opinions posted to Twitter were diverse with some tweeters blasting the Texan as a cheat while others still maintain their faith in the cancer survivor.
On October 23, Armstrong removed from his Twitter biography a line referring to his seven Tour crowns.
-AFP