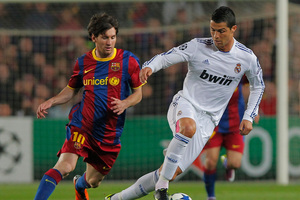 It's a pet hate: when people shrug and say: "Oh, that's professional sport ...".
When Ma'a Nonu makes a handshake commitment but then forsakes the Blues for the Highlanders, that's professional sport. When Lance Armstrong and, it seems, most of top cycling take performance-enhancing drugs, that's just professional sport too.
When footballers dive in the penalty area or con the officials to get an opponent sent off - it's just the way it is ...
When clubs or franchises treat a player or players poorly (somewhat rarer in these days of increased player power) that is also greeted with the old line: that's pro sport, man ...
What they are really saying is that professional sport excuses all sorts of failings, excesses and poor behaviour. It's "business". There has been an outcry over Armstrong but there's been little notice taken of a far bigger scandal - the Spanish football clubs who owe their taxman €675 million ($1.04 billion).
This week, Spanish Prime Minister Mariano Rajoy said he has ordered the taxman to chase Spanish clubs to pay off their huge debts: "Of course the football clubs are going to pay their debt to the Treasury and social security. In fact, they already are doing so."
Spain has massive unemployment - the largest of any industrialised nation, with 4.8 million jobless. The rate of youth unemployment (under-25) has risen to 52 per cent. A number greater than the population of New Zealand is without work. There is a large, dark, void of hopelessness among young people in Spain; their future is bleak.
Nor does the debt of the clubs stop at the $1 billion owed in tax. A professor at Barcelona University estimates that various clubs owe about €600 million, just under a billion dollars in our money, in missed social security contributions.
In spite of the massive European bail-out of the debt crisis, Spanish unemployment is rising as cuts hit civil service and private sector jobs; TV news show images of previously middle-class folk rooting through garbage skips for food.
The Germans, spearheading the bail-out, reacted bitterly when Spain said it might waive the debts of football clubs.
"We pay them hundreds of millions of dollars to get them out of the shit and then the clubs don't pay their debts," said Uli Hoeness, the president of German club Bayern Munich.
Fans were furious German teams were being beaten by Spanish clubs effectively subsidised by tax breaks paid for by German taxpayers.
The German tabloid Bild asked how long the German taxpayer would subsidise the wages of Barcelona's Lionel Messi and Real Madrid's Cristiano Ronaldo. Messi's annual salary is believed to be €10.5 million ($16.2 million) and Ronaldo's €13 million ($20.1 million). That does not include off-field revenues giving each an estimated income of €30 million ($46.5 million).
Yet many big-spending clubs are essentially taking money from the unemployed and food from the hungry. You'd have to figure $2 billion would go a fair way in present-day Spain.
The problem is both political and financial. For years, football clubs round the world have shown little restraint chasing the next big player with a big salary and big sign-on fees.
Remarkably few have gone to the wall, considering the level of debt accrued.
They've got away with it because many are able to generate enough revenue to cover repayments - but there has also been a lack of political will to bring them to book.
Look at Spain. Consecutive European championships, with the 2010 World Cup sandwiched in between, gave the nation a much-needed lift.
So, too, do their two biggest clubs, Barcelona and Real Madrid, who regularly capture club football's biggest prizes. Politicians attack such popular institutions at their peril.
It's a little like Auckland's transport woes. The billions of dollars and the pain required to get Aucklanders out of cars and into a credible public transport system is such that politicians are unwilling to grasp the nettle; they are unwilling to trade action for losing at the polls.
Fifa have instituted fair play regulations designed to stop clubs from amassing too much debt. The Spaniards, seeing the bitter outrage at the possibility of the clubs' debts being waived, have negotiated an agreement with La Liga for a gradual payback by the end of 2020, with the clubs using 35 per cent of their television and radio revenues (starting in 2014) to pay off tax debts.
One suggestion is that clubs with tax debts be barred from competing in the Spanish league - a measure already in effect in Italy and which would change the face of La Liga. Gone would be Barcelona, Atletico Madrid, Real Betis, Racing Santander, Real Zaragoza, Levante and Mallorca. Real Madrid, Athletic Bilbao, Real Sociedad, Getafe, Villareal and Gijon don't owe any tax.
It'd be an unpopular move, sure, but football clubs and millionaire players being rewarded when people are going hungry ... ? That isn't professional sport. Or it shouldn't be.