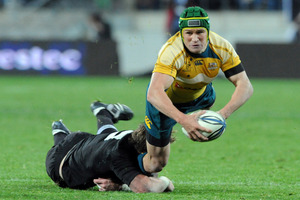 Matt Giteau, former Wallaby Matt Giteau has ended any chance of playing for Australia again, signing an extension to his contract at Toulon - but said that under Robbie Deans he would never have been picked again anyway.
He helped Toulon to the Top 14 final last season and signed a two-year contract extension last month.
"Yes, I have brought the curtain down on my chances of ever playing for my country again," he said.
"But with the coach who is in charge of them at the moment, I don't have much of a chance of being called up in any case.
"Even if I had returned to Australia, a condition of being available again for selection, I would maybe not have been recalled."
Giteau had some sympathy for Quade Cooper, who was heavily fined and received a suspended three-match ban for his recent outspoken public criticism of the Wallabies' set-up.
"I also experienced difficult moments at international level - I didn't make the last World Cup.
"Robbie is as he is. The coaches like certain players and others less ... It's always been the case. I don't enter into the plans of Robbie."
Giteau believed Will Genia would be the player the Wallabies will miss most on their European tour starting against France this weekend. The side is missing several key players including James Horwill, Cooper, James O'Connor and Scott Higginbotham.
After a career including 92 tests for Australia, 31-year-old Giteau has been a big success playing for French competition leaders Toulon, forming a strong combination with fellow veterans Jonny Wilkinson and Frederic Michalak.
"In my head, I had two options: to stay in France or return to Australia ... When it came down to it, it was a relatively easy decision to take."
-AAP, AFP