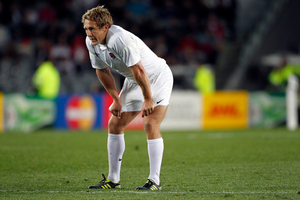 The 2015 World Cup in England risks being devalued should European clubs prevent internationals from Fiji and other Pacific nations taking part, according to a leading players' representative.
England - who face Fiji at Twickenham on Friday - will be the main host nation of a World Cup for the first time since 1991.
And with the tournament again overlapping with the European domestic season, the practice of clubs offering incentives to ignore test calls could see the likes of Fiji, Tonga and Samoa deprived of key players.
International Rugby Board regulations require clubs to release players for major internationals and tournaments, but clubs have tried to get around this with contracts that compel players from cash-strapped Pacific Island nations to make themselves unavailable for test duty, as happened at last year's World Cup in New Zealand.
Former Fiji first five-eights Nicky Little, who has played club rugby in five European countries, labelled the practice as "blackmail".
Meanwhile Damien Hopley, the International Rugby Players' Association chairman said the IRB were aware of the practice.
"It is imperative that the World Cup is defined by the best playing against the best. We look forward to receiving a formal response to a problem that is threatening the integrity of this fantastic competition."
IRB regulation nine forbids clubs from offering disincentives, either through "contract or conduct", to players to represent their country, but critics insist the global governing body has not done enough to enforce the rule.
Simon Mannix, a former All Black and coach of Racing Metro, has alleged Fijians at the club were paid to be unavailable for the 2011 World Cup so they could play in the French Top 14 instead.
However, the IRB insisted it could only take action if it received a complaint, saying in a statement: "The IRB can only act on player release issues if requested to do so by a union or if it is provided with credible evidence that would allow it to pursue its own enquiry."
-AFP