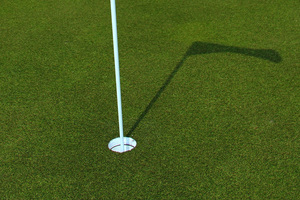 American golfer Blayne Barber won't have a PGA Tour card in 2013.
But at least the first-year pro will have a clear conscience.
Golfweek magazine reported yesterday that Barber - a former All American at Auburn, disqualified himself from Tour Qualification School six days after the first stage ended because he feared that he may have signed an incorrect scorecard.
The disqualification stemmed from an incident in the second round when Barber took a 1-shot penalty stroke when he thought his club moved a leaf in a bunker. His caddie said he never saw the leaf move, but Barber still applied the penalty stroke to his score. The 2011 U.S. Walker Cup team member didn't realise the correct penalty is 2 shots until talking with a former college teammate after the tournament.
"I continued to pray about it and think about it, and I just did not have any peace about it," Barber told the magazine. "I knew I needed to do the right thing. I knew it was going to be disqualification."
In two starts on the Web.com Tour in 2012, Barber finished T-33 and T-15, earning a total of $13,000. "I just feel peace about it," Barber told Golfweek. "Doing the right thing and doing what I know is right in my heart and in my conscience is more important than short-term success."
Had Barber taken the 2-shot penalty, he would have still easily made it to the second stage of PGA Tour Q-school since he was 5 shots clear of the cut. His decision gave a reprieve to Jason Arnold, Corbin Mills, Jonathan Moore, Chesson Hadley, Robert Jan-Derksen and Maarten Lafeber. All six finished T-19 at the Callaway Gardens Mountain View Golf Course in Pine Mountain, Ga., but with Barber's DQ, they all moved up to T-18, good enough to advance to the second stage.
-nzherald.co.nz