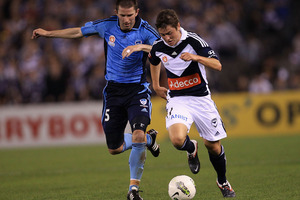 The last time Marco Rojas played against former A-League club Wellington Phoenix, he had his jaw broken and his season ended.
Smashed by Phoenix enforcer Manny Muscat in a heavy challenge, Melbourne Victory winger Rojas knew little about a hit he admits didn't look great.
Going into a rematch on Monday night at Etihad Stadium on his 21st birthday, Rojas bears no malice.
"I didn't even know where I was - I couldn't be angry," Rojas said of the tackle.
"It didn't look the best, but that's football. It happens sometimes.
"I know he didn't do it on purpose. There's no hard feelings."
It capped off a forgettable debut season at the Victory for Rojas, one of New Zealand football's brightest prospects, who struggled to get going as his new club careered from one disaster to another.
Like the Victory, the signs are much better for Rojas this year.
Few will benefit more from the Ange Postecoglou style than Rojas, best suited out wide and most dangerous when running at players.
A confidence player, Rojas appears to have regained the swagger he displayed two seasons ago when starring in a late-season run for the Phoenix.
He has scored twice in four games for the Victory this season.
"We play a good brand of football so everyone's enjoying it - it's a lot better than last year," Rojas said of the change from a season in which the Victory churned through two coaches, few wins and played with little style or substance.
"For me, it's perfect - all along the ground football. I'm really happy playing under Ange.
"I'm going to keep trying to get better, and our football's getting better as well."
The Victory sit bottom of the table in a congested league, in which just six points separate first and last.
The Phoenix have started the season well and sit inside the top six.
But they will be without reliable defender Ben Sigmund after his controversial send-off against Adelaide United over the Jeronimo Neumann "dive" incident.
-AAP