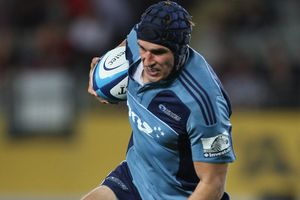 Anthony Boric joked that he would ask one of the halfbacks rather than a bigger specimen to run at him in the first day of contact work at Blues training.
While it received a generous laugh at the Blues squad announcement this week, Boric's chances of doing even that looked slim this year as the All Blacks lock battled with a career-threatening neck injury.
It flared in his second test against England in 2008 and, after settling down, returned in a pre-season game against the Bulls. His last game of rugby was against the Bulls in March.
Boric initially hoped the injury would settle with rest but surgery - something he hoped to avoid - loomed as the only realistic option to ensure he got back on the pitch. Even then there were no guarantees and Boric contemplated retirement.
"I decided to get the surgery just so I could get my neck strong so I wouldn't have to worry about it in general day-to-day life. It was kind of tough when you think you are going to play for five or more years and suddenly it can end just like that."
Boric was already well on the way to preparing for life after rugby - he's four papers short of an engineering degree - but he made the most of the break to find out what it's like in the "real world".
Turns out he quite likes it. He worked for a handful of engineering firms and also went travelling.
"I got a chance to go to Europe in their summer," he says. "Those are the things you miss out on. You get to travel and tour with rugby but it's never the same as being out there doing it yourself.
"While it's been frustrating not playing, it's been kind of cool to get away from it. I haven't watched much rugby and I've done a bit of work, experienced the real world. It's been quite refreshing. Hopefully, potentially, it will be a good thing for me to come back refreshed in both body and mind. As long as the neck holds up, who knows?"
That's the key indeterminate. Boric had surgery to replace a bulging disc around his C5 and C6 vertebrae and been told it should "be stronger than the old one".
Next season will be important for Boric on many levels. At 28, he has lost ground at the top level and he will quickly need to assert himself over a handful of younger models, such as Brodie Retallick and Dominic Bird.
Rugby at the top level is unforgiving, particularly on locks who are required to shift bodies with vigour. Serious neck injuries can encumber this, or more especially the willingness of the mind.
Returning to the All Blacks to add to his 24 tests might be the goal but that will only come through playing well for the Blues. John Kirwan has assembled a young and inexperienced squad but lock is an exception with Boric joined by veteran Ali Williams, Liaki Moli and Culum Retallick.
"Hopefully the public won't expect too much because, with no added pressure, we could do a few pretty cool things."
Boric is trying not to put too much pressure on himself, either - that's why he will start with tackling a halfback.
- APNZ