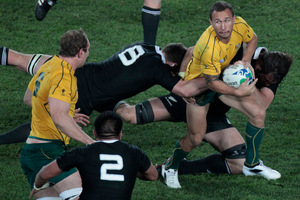 International five-eighth Quade Cooper has been fined AU$10,000 (NZ$12,622) by the Australian Rugby Union for a comment he made on Twitter criticising a New Zealand developer's rugby video game.
When asked by a fan if he preferred FIFA 12 or Rugby Challenge, Cooper replied: "Rugby Challenge is the sh*ttest game."
The game is marketed in Australia as an ARU-licensed product called Wallabies Rugby Challenge. Its New Zealand cousin on the PlayStation Vita bears the endorsement of All Black legend Jonah Lomu.
"Perceptions of quality are subjective," said Mario Wynands, Managing Director of Wellington-based Sidhe.
"Mr Cooper, like any gamer, is entitled to his opinion on our games and we don't begrudge him that," he said.
"Put in context, he was obviously lashing out at all and sundry at the time, presumably frustrated by his recent on field performances and current injured status, from which we wish him a speedy recovery.
"That being said, we'll be sure to take special care of his player stats if we develop a Rugby Challenge sequel."
The three-man ARU panel also fined Cooper for other comments on social media and in the mainstream media. A third of the overall fine of AU$60,000 (NZ$75,731) and a three-match suspension he also received have been suspended on the proviso that Cooper behaves for the next two years.
The ban potentially covers Super Rugby and Test matches.
Cooper was summoned to appear after a number of criticisms which included calling the Wallabies set-up a "toxic" environment.
He addressed the large media contingent after the hearing, but didn't take any questions.
"It was a very fair hearing and I was very happy with the outcome," Cooper said.
- NZGAMER.COM, AAP