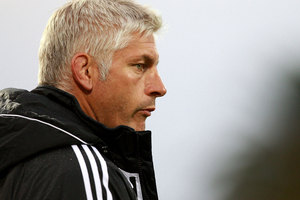 Todd Blackadder has admitted the pressure of attempting to win a title at the Crusaders affected his decision making last season and he is vowing not to fall into the same trap again.
Blackadder is in the final season of his contract at the Crusaders and knows the weight of expectation from his employers and rugby public within the franchise will ratchet up several notches. Despite a side stacked with All Blacks, he has yet to win a title in his four years in the job and realises this could be his final chance.
The Crusaders last won a title, their seventh, in 2008, the final year of Robbie Deans' reign.
"You are under pressure but you have to enjoy it along the way, otherwise it affects your decision making, the players and the people who work with you,'' Blackadder said.
"It can't all be about the one outcome - winning a title - it has to be about enjoying the journey, otherwise it's no fun at all. That was definitely a mistake I made this year.''
Blackadder has lost captain Richie McCaw to a sabbatical and prop Ben Franks to the Hurricanes but still has a forward pack more than capable of holding its own and a backline featuring Dan Carter and Israel Dagg which is better than most.
He realises the key to success, after a series of playoff failures, is unlocking the talent among the latter pair. That is why he is eager to get an attack coach on board.
Daryl Gibson performed the role for the past four years but resigned after being essentially demoted to a defence role. There were questions about whether Blackadder might go back to one backline assistant to cover attack and defence but he confirmed today it would remain split and two people appointed.
The deadline for applications is Sunday and Blackadder hopes to announce his new appointments by the end of next week.
With most signings signalled in advance, there were few surprises in today's New Zealand franchise squad announcements.
Lock Ross Filipo, a former Hurricane and All Black who returned to Wellington after a stint overseas, has signed with the defending champion Chiefs in what is perhaps the biggest surprise.
Highlanders coach Jamie Joseph will be satisfied with how his squad looks. He has added Tony Woodcock, Ma'a Nonu and Brad Thorn to a formidable line-up, although he will be disappointed All Blacks loose forward Adam Thomson has decided to have a break from rugby during the Super season.
Blues coach Sir John Kirwan is putting his faith in youth - although in reality he doesn't have much choice. Having lost Woodcock, Nonu and prop Pauliasi Manu, Kirwan has to start from scratch but his enthusiasm at today's announcement won him a few new admirers among the franchise's supporters.
Kirwan has the most inexperienced side in New Zealand, with 16 new players, 11 of whom are new to Super Rugby.
As expected, flanker Daniel Braid missed out on a contract and will now look overseas.
Another high-profile player to miss out was Counties wing and New Zealand sevens player Sherwin Stowers.
Each franchise will name another five players in wider training squads in late November.