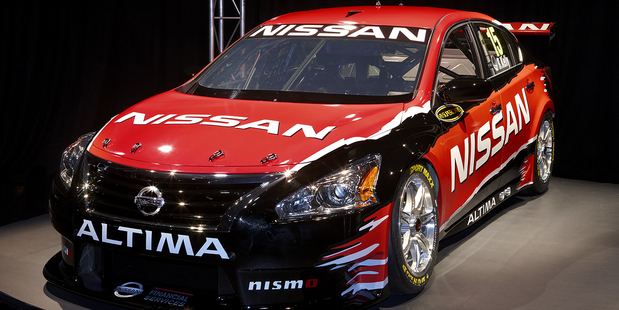 Nissan's Altima V8 Supercar which will compete next season. Photo / Supplied
The AU$1.5 million Nissan Altima V8 Supercar is what happens when two self-confessed country bumpkins with talent and determination come to the city and take on the big players in Australian motorsport.
The 2013 Supercar challenger, which was unveiled yesterday afternoon, is a massive gamble aimed at snapping the Holden-Ford duopoly which has led to a sense of predictability in Australian elite touring car racing when they enter the V8 Supercar championship next season.
Todd and Rick Kelly, the two drivers who have expanded to lead one of the biggest private racing groups in Australia, plotted the development of the Altima Supercar in secret, aware of the plethora of questions their ambitious venture would prompt.
"Two country bumpkins, there were so many questions asked,'' Rick Kelly said.
"Would we get to the first race with four cars? Are the cars going to go around the track? How long until we shut our doors?
"We managed to go from one step to another and grow our team from 35 staff back in 2009 to almost 70 staff now.''
Kelly said that it was critical to have factory backing, something history has proved and something which has been demonstrated this year with the domination of factory-backed Holdens and Commodores in the V8 Supercar championship.
However that fact also throws a shadow over the planned Erebus Mercedes Benz entry next year which will have the backing of Mercedes' AMG performance arm, but not the factory as a whole.
The next and most practical challenge for the Kelly Racing Altimas - resplendent in black and red, with bulging wheel arches and steeply sloping windscreens - will be testing the car and experimenting with a vast "toolbox'' of aerodynamic add-ons.
Todd Kelly said the team would conduct their own aerodynamic tests to make sure the car is "somewhere in the ballpark'' of having the correct amount of downforce before it is presented to V8 Supercar officials for scrutiny.
Supercar legend Mark Skaife, head of the Car of the Future program, under which new makes such as the Nissan Altima are allowed to compete from next season, said there was no reason why the Kelly's Altima could not win races next year.
Nissan last competed in the Australian Touring Car Championship 20 years ago and the success of its four-wheel drive GTRs drove a wedge between the traditional Holden and Falcon fans and those prepared to support an overseas product.
Rick Kelly said one of the issues the team had to consider was the reaction from V8 supporters.
He said he and the team had been delighted by the backing they received with a new make on the horizon at a season-opening test day at Sandown early this year.
"Everyone, I think, really felt rejuvenated and that the category was changing up a bit and they were very interested to see how that was going to play out,'' he said.
"Throughout the last nine months you've seen that anticipation build and I think you'll really see that in ticket sales to the (season-opening) Clipsal round (in Adelaide) next year.
"I think that's invited a lot of new fans to come to V8 Supercar racing and enjoy it.''
Kelly said Holdens and Falcons now had a much smaller market share and it was important to open Supercar racing up to brands which had become more popular in the showrooms.
- AAP