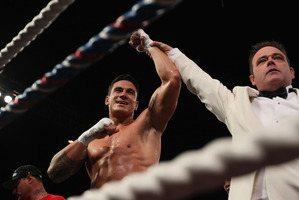 The drama surrounding Sonny Bill Williams' anticipated return to the NRL has taken another twist with reports a chest injury will keep the dual international out of action for at least two months.
The 27-year-old flew into Sydney on Tuesday to prepare for a boxing bout next month, but it is understood he was also set to formally sign a contract to return to rugby league with the Sydney Roosters.
But after being spotted at the NRL club's headquarters at Moore Park, Nine News reported the former Bulldogs' back-rower had scans on a pectoral injury and faces surgery followed by two to three months without any form of contact.
Williams suffered the injury playing rugby union for Japanese club Panasonic last weekend.
With Japanese rugby on a five-week break, his return to the Wild Knights is in jeopardy and his heavyweight fight with South African veteran Francois Botha on November 24 will almost certainly be postponed.
And while his mooted deal with the Roosters might still eventuate, the untimely injury has the potential to further complicate negotiations that have been bubbling away for months.
In July, Williams said he would quit the All Blacks to fulfil a handshake agreement made several years ago to return to rugby league in the NRL in 2013.
"At the moment, it (the fight) is a little bit in doubt,'' Williams told Fox Sports at Sydney Airport earlier on Tuesday.
- AAP