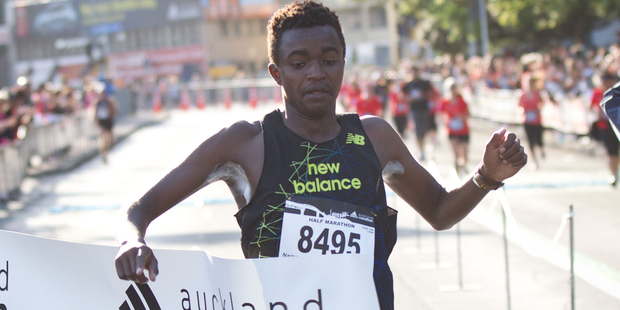 Half marathon winner Edwin Kaitany would be well advised to spend some of his winnings on an alarm clock.
Kenyan Kaitany went close to losing his unbeaten record over half marathons in New Zealand this year when he overslept and was late to the 7am start in Devonport yesterday.
"I woke up late and got to the start just as the race started so I had to make my way through to get to the front. It was so hard with so many runners," Kaitany said.
"I first made contact with the first guy at 11km and tried to run my best in pulling away from him."
Hills are not the 21-year-old's favourite terrain and the Harbour Bridge was a bit of a battle for him. "I found the bridge tough and windy; it was too hilly for me," he added.
Kaitany, who is based in Wellington, won in 1h 9m 39s, 11 seconds ahead of Rotorua's Steven O'Callaghan with Jono Jackson third in 1h 10m 43s.
Kaitany has cleaned up six half marathons across the country in Wellington, Rotorua, Huntly, Christchurch, Waitakere and now Auckland.
"I'm returning to Kenya for training for the track season and then I'm going to Canada to study on my first scholarship. I will return to New Zealand once a year from now on and my next half marathon will be in Christchurch next June where I hope to run my personal best time," he said.
Kaitany has a best time of 1h 4m 33s, set in Nairobi.