Scorching Auckland morning proves too much for some in event, which attracts visitors from 50 countries.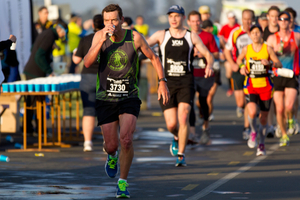 More than 45,000 cheered along the Auckland Marathon in the sunshine yesterday for events ranging from a full 42.2km to a 5km run and walk.
The heat of the near windless morning, which reached 20C by 9am when most of the 16,500 competitors were on the streets, resulted in dehydration and exhaustion for some of the 140 people who were treated by St John Ambulance staff.
Race director Richard Lindroos said this was the same as last year.
"It's been a stunning day with near perfect conditions for running, though the temperature got up a bit towards the end.
"We had plenty of hydration product at our support stations."
The men's marathon was won by the favourite, Rowan Walker, of Victoria, in 2hr 24min, beating Aucklanders Scott Winton and Tony Payne, who were also competing for the New Zealand championships.
The marathon started at Devonport at 6.10am for a crossing of the harbour bridge but Winton said later: "It was hot.
I certainly would not want to run it any later."
A record was broken in the women's marathon by Alexandra Williams, of Christchurch, in 2hr 41min.
Among the thousands who tackled the 21.09km half-marathon course from 7am was Olympic rower Nathan Twaddle, 36, who finished in 1hr 55min.
First-time entrants in the half marathon included Simon Brown, 38, of Devonport who finished in 3hr 55min.
"I survived, though I was knackered in the last few kilometres. But I ran faster in the second half and the adrenalin and crowd cheering us along helped."
The support of the crowd was also a highlight for another novice, Vicki Goodhand, a Pukekohe mother of two boys. "My time of 1hr 44min was a lot better than I thought I could do.
"You are spurred on by all the other people running and people coming out from their houses and cheering us on. People were playing the drums at the harbour bridge."
Auckland Central resident Emma Livingston, who had a time of 1hr 54min, said: "It was an amazing run with so many people out there supporting each other."
Auckland Mayor Len Brown took part in the 5km challenge as a walker.
The council sponsors the event, putting $125,000 towards it.
The acting general manager destination of the council's tourism arm, Auckland Tourism, Events and Economic Development, Jennah Wootten, also ran the half marathon.
She said it was a great experience.
The event attracts visitors from 50 countries. She said the council wanted it to grow, but with a balance of overseas and local competitors.
Auckland is a finalist for the world "sport city" award to be announced on November 6 in London.
Going the distance
16,500 competitors in Auckland Marathon
45,000 spectators
20C temperature by 9am
140 people treated by St John Ambulance