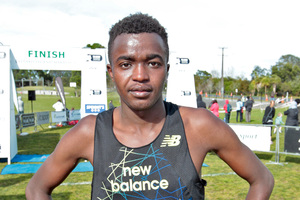 They would never say it but the Kiwi boys in the adidas Auckland Half Marathon know they are running for second place tomorrow.
That's because Kenyan Edwin Kaitany, who also goes by the name of Kip Kemei, has completely dominated every race that he has entered since moving to live in New Zealand in February.
The 21-year-old runner from the Rift Valley, who has been based in Wellington, has won the New Zealand cross-country and road championship races and has also won half marathons in Wellington, Rotorua, Huntly and Christchurch.
The likeable African is looking forward to continuing his hot form in the biggest running event in New Zealand.
"I want to improve my personal best time," said Kaitany, who has a PB of 1:04:33 in Nairobi from last November.
If he can manage that then the race record of Matt Smith, who ran 1:06:19 in 2009 on the IAAF Certified Course, is likely to be easily broken.
"I have never done this course before but I think I will do well because I have been training hard enough for the event," added Kaitany.
"It is a well-organised international marathon in the world. Also, it is fun to run a course which goes over the Auckland Harbour Bridge. There is nothing like this in Kenya."
His most recent win came at the Arthur's Half Marathon of the Lydiard Legend Run in the Waitakere Ranges in September.
He ran 1:10:03 on the notoriously tough course to break Sam Dobson's 2009 race record by 28 seconds. Kaitany was not used to racing on such a hilly route.
"It was really hard because I'm used to flat courses, I was tired and I just wanted to finish."
The New Zealand contingent may feel that way as they try to chase the Kenyan around the streets of Auckland. They will be doing their best to stay in touch with Kaitany.
Steven O'Callaghan, Aaron Pulford and Malcolm Hicks, a very quick track runner who is stepping up to the half, are expected to be his main rivals for the 21.1km race.
Rotorua's O'Callaghan is aiming for a personal best time of 1:07:30.
"I train really hard and always aim to peak specifically at this event," he said.
"Because of the good reputation the event has and you are always racing top runners. I thrive on competition. The prize money is always a bonus too."
Other contenders include Jonathan Jackson, Johnny McKee, Kyle MacDonald and Liam Scopes.
Kaitany, who has a cup of tea and a slice of bread before big races, is likely to finish well before thousands of others attempting the half marathon. But he is spurred on by all of the participant athletes.
"Yes they inspire me because they work hard, train hard and are taking part in the marathon as well."