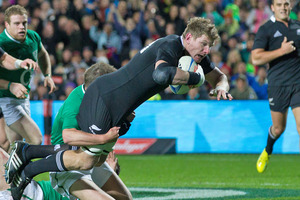 Adam Thomson is set to announce his rugby future on Monday, which is expected to be a move offshore.
The Highlanders and All Blacks flanker is off contract at the end of the season and could still be considered for the All Blacks' end of year tour which is also named Monday.
Super Rugby squads are named on Wednesday and despite reports earlier in the season that he was being courted by the Blues, it seems likely the 27-test All Black will eye a move to either Japan or Europe.
New Zealand Rugby Union chief executive Steve Tew confirmed today that Thomson has yet to sign a new deal with the NZRU and will make an announcement on Monday.
Thomson told Radiosport in August that the argument for heading offshore was compelling.
"Money is a big thing and with me especially, there's only a finite amount of time you can play. You can't play into your 40s and 50s unfortunately so you have to make the most of the opportunity you've got right now.''
The 30-year-old also told the Otago Daily Times that the first decision to make was whether or not he'll stay in New Zealand.
"I've enjoyed my time down here. In saying that, I'm not getting any younger and I need to start looking at the future."
Thomson has played four tests this season, the last being against South Africa in Johannesburg, but has fallen behind Liam Messam and Victor Vito in the pecking order on the side of the All Blacks scrum.
Thomson will line up for Otago in the Championship final against Counties Manukau tonight in which could be his last game on New Zealand soil.
- nzherald.co.nz