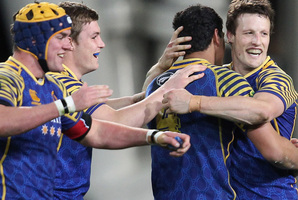 Otago are nearing the summit.
After starting the year in what seemed like a bottomless pit, they now find themselves on the cusp of earning back their place in the top echelon of provincial rugby when they play Counties Manukau tonight.
That goal looked a forlorn hope earlier this year - the union on the brink of going broke, players being cut and the team being handed a lesson in the pre-season.
Now Otago are on the brink of crowning a season which would be hard to match in terms of drama.
"The impressive thing for me is how quickly they have learned and how well they have developed as a team," coach Tony Brown said.
Most of the new players have passed their first year of rugby education. If they win tonight, they are on their way to the honours degree department.
"It is about staying composed," Brown said. "In a final, a couple of chances might come along and we've got to make sure we take them, and make sure we defend well. We can't allow [Counties] to get too much of a roll on. I'm sure at times they will get a roll on [but] it will be about how we handle that, how we react to it."
Otago are boosted by the return of All Blacks Ben Smith, Tamati Ellison and loose forward Adam Thomson.
"It is great to see people enjoying Otago rugby again. Dunedin seems a better place when Otago is winning," said Brown.
Otago were beaten 43-12 by Counties Manukau on September 14 in Pukekohe when the home side swamped the Otago defence in the second half. It was a case of Otago failing to match Counties Manukau when they upped the intensity and pace of the game. More of that tonight and there will be only one result.